When the rock tilted beneath my foot I had no time to react. As I stood up and looked at the deep gouge on my leg, blood began to course down my shin. I cursed out loud. I did not want to spend the night lost on the steep slope, and a hurt leg would definitely slow me down. With the light fading and in unfamiliar territory I had maybe 1 to 2 hours before I would be forced to stop. The thought of my wife and our friend back at camp worrying about what might have happened to me spurred me on.
The day began perfectly, the weather was great and our spirits were high. With just a short hike up to Lindeman Lake, our first overnight "backpack" camping trip was more like a trial run than a real outting. Our heavy packs slowed us down and after 40 minutes we were finally at the lake. A couple we met on the way up had said they had the campsite to themselves and when we arrived there were people there but no one camping.
We quickly set up camp and had some lunch. After we ate I packed my bag and set off to hike the loop trail up to Flora Lake with Fergus. It was 12:45pm and I had read that it was an 8 hour hike to Flora so I hustled my butt around Lindeman and almost ran the trail to Greendrop Lake. It was an easy hour of hiking until I reached the turn-off for Flora Lake. I took a short break, having a snack and some water before attacking the steep switchbacks and gaining 200 meters in about a kilometer. I thought I had heard voices ahead of me and in about 10 minutes I caught up to a couple of guys and their dog who were going to Flora as well. I'm not sure if they made it as I didn't see them again.
Once I'd gained the upper valley the trail levelled out and the going was easier. There were a couple of boulder fields to traverse over the next 2 kms and great views of Flora Peak. The forested areas were beautiful and I really enjoyed walking among the towering trees. Although there are no giants here, it has an open, "old growth" feel, unlike anywhere else nearby.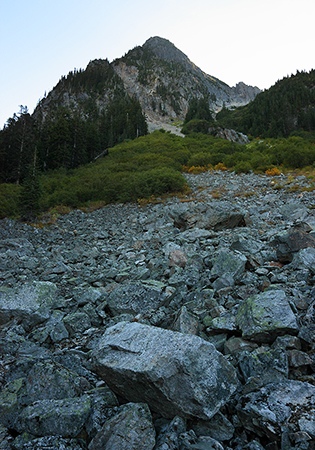 It took about an hour of steady travel to reach Flora Lake from the trail junction. At the lake, I slowed down and started looking for photo opportunities. The water was pretty calm until Fergus started attacking it, creating waves that spread across it's surface. There were colourful grasses in shades of green, yellow, and purple, and logs submerged along the shoreline.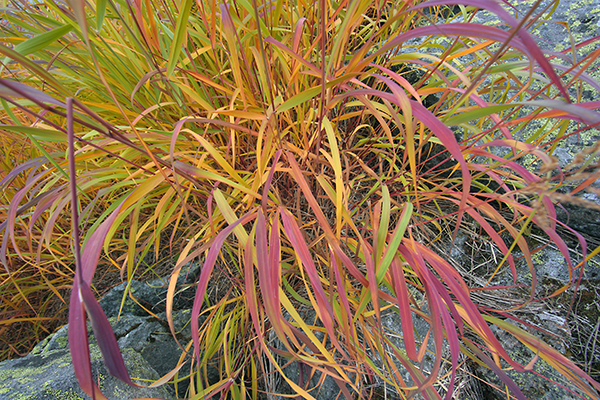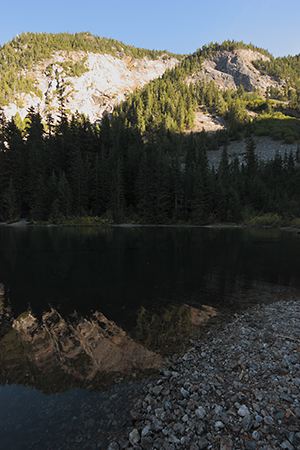 I knew my time was limited so it wasn't long before I made my way to the far end of the lake. There's a nice little camping spot there, so I dropped my pack and spent a bit of time enjoying the scenery. I could see the trout as they chased the flies, jumping out of the water to catch them. Finally it was time to leave the lake and climb out of the bowl. I'd told Serea that I would be back to camp around 7pm, just as it would be getting dark, and I didn't want to be late and worry her.
The trail out of the valley was easy to follow but I found it to be a bit of a slog, gaining around 400m in about 2kms. As I approached the ridge, the trail opened up and I appreciated the views. Fall colours were in full swing in the alpine and the slopes were covered in reds, oranges, and yellows. From the ridge it's all down hill and I looked forward to a quick and easy descent. The Chilliwack River Valley stretched away to the west, the mountain layers fading into the distance. I stopped along the open hillside, looking back to take some pictures of Chilliwack Lake and the surrounding mountains.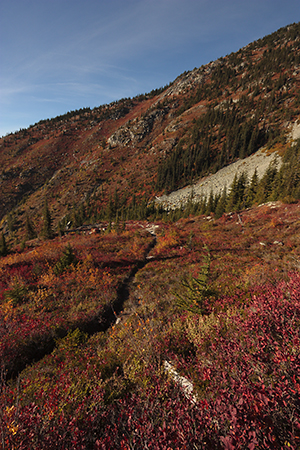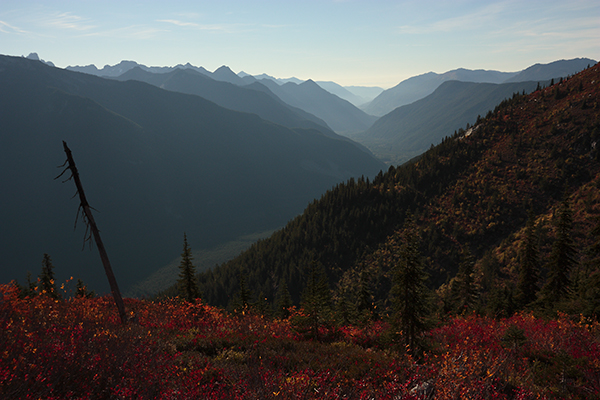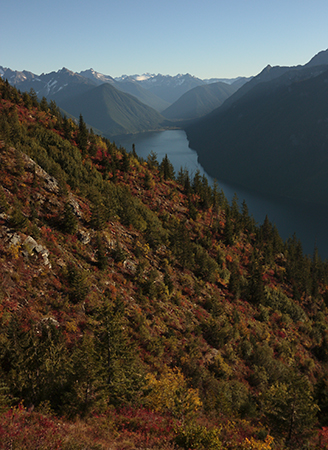 I was trucking along when I took a switchback and thought to myself that the trail was deterieorating. Fergus had intially gone straight until I called him to me. I back tracked up to the more defined trail but it looked like someone had placed a log across the path, steering me downward. Back down I went as the trail turned from path to faint trail to animal track to nothing. Not overly concerned at this point, I kept going, thinking that I would meet up with the trail after a bit of off trail travel. I checked my GPS and the slope seemed about the same all the way down the mountain, so I just picked the path of least resistance.
Off trail bushwhacking is slower going than hiking on a trail and as I pick my way down I began to be concerned about the time. If it got dark before I regained the trail I would be spending the night in the woods. The terrain was quite steep and there was no way I'd risk sliding off a cliff and getting seriosly injured.
It was about 5:30pm, an hour after loosing the trail, when the rock jumped up and bit my leg. I pulled out my first-aid kit and put a couple of bandaids over the wound. I had to keep moving, the sun was going down behind the hillside and the light was fading. I checked my GPS again and I could see Post Creek on the map and I wasn't too far away. After a few minutes I began to hear the sound of water and I knew things were going to be ok. Another 15 minutes or so and the ground leveled out and I emerged onto the Lindeman Lake trail just a few minutes from the trailhead.
I was ecstatic to be on a trail. It was 6:22, half an hour from dark and time to get out the headlamp. I was pretty tired but there was still the trip back to our campsite. I put my head down and pushed myself to continue. The bandaids had fallen off my leg and blood had dripped down to my sock. Adrenalin had prevented me from feeling too much pain from the wound, but as I neared my destination I began to relax.
As I arrived back at camp, Serea and Paul were happy to see me. Then they caught sight of my leg! Serea's reaction was to pack-up and head to the hospital but I didn't want to ruin our first backpack trip so I said it wasn't bad. Paul cleaned the cut and covered it. I began to shiver so I layered up. Serea made me some dinner and Paul poured us a coffee.
It was a beautiful night at the lake, we watched the stars and listened to the breeze as the fire died down to embers. I think it was a great "first" backpack overnighter, but I also think there's a bit of room for improvement!