After countless hours of dreaming about the Rockies, I decided to make the pigrimage. I tried to find someone to go with me but with no success. I decided to go solo.
 I had been reading a trail guide and scoping out the area on google earth and one of the most intriguing hikes was around Shadow Lake and the Egypt Lakes area. I saw a way of making a loop that would allow me to hike out right where I went in with only a few kilometers of overlap. This is a very popular area so I was confident that I wouldn't be far from other hikers, mitigating my fear of bears. It's not that I'm overly frightened of bears, it's that I'd prefer to have back-up, just in case I'm attacked in the middle of the night.
 My plan was to leave home in the afternoon, drive as far as I could, and then pull over and sleep in the truck. In the morning I would complete the drive and get an early start at the trail head. That was my plan, but by the time I pulled into Golden I'd changed my mind. I'd spend the night in a hotel and wake up, refreshed and ready for the days adventure.
 I found a room and crashed.
 The next morning I partook in the hotel's free breakfast before driving to Lake Louise. I stopped at the visitor's centre to grab a map and check on current conditions. From there it was a short drive to the trail head on Hwy 93. I drove right past the parking lot as the only signage was a small sign about 100 ft from the road.
 Stepping out of the truck, I was a little dissappointed by the cloud cover.

  A by 9:00 am I was packed up and ready to go.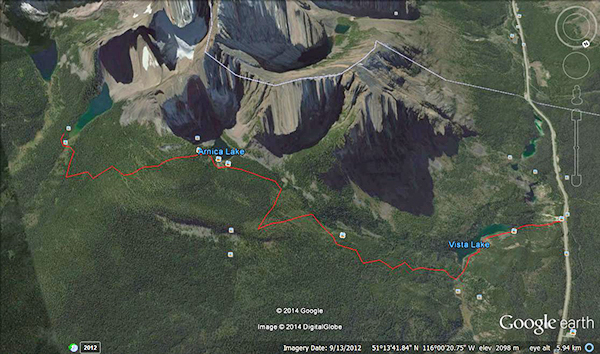 The trail initially descends over 100 meters to Vista Lake. I was travelling through a young forest of tightly spaced trees and was thankful that there was a trail.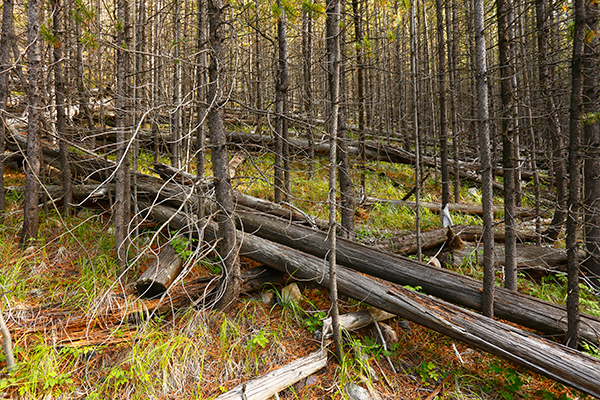 The sky had started overcast but was slowly clearing and I caught glimpses of the surrounding peaks. I reached the shore of Vista Lake but with didn't linger.
 Then the trail headed up through an old burn that is slowly growing back. The views back were opening up and I was able to see the mountain ranges behind me.
 My pack weighed heavy on my back and climbing up to Arnica Lake seemed to take forever. Some folks who had set off just before me played leap- frog with me for awhile. A gentleman who caught up to me chatted about the area and other fine hiking destinations. Talking made the journey seem shorter. We parted ways at Arnica as I stopped to take some photos.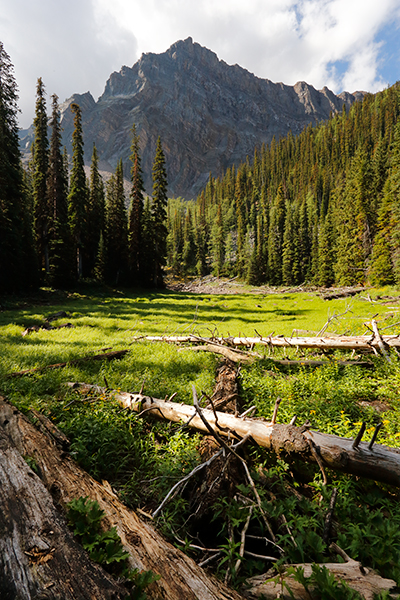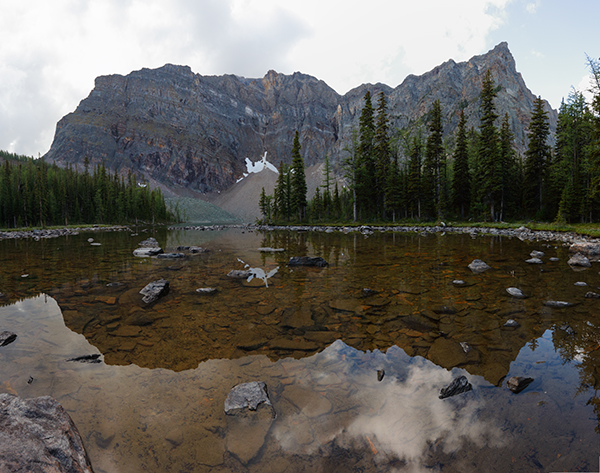 It's a short distance, up and over a shoulder, before descending to Upper Twin Lake. The backdrop of Storm Mountain, with its steep cliffs and rising peaks, makes this a stunning location.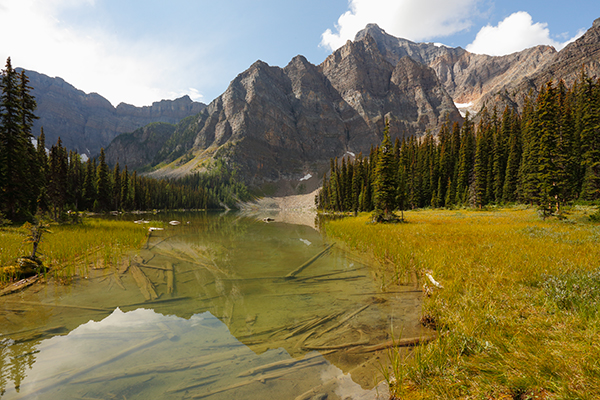 After unpacking and setting-up I went to explore the lake. I followed a boot-beaten path along the shore for awhile  and admired the beauty of my surroundings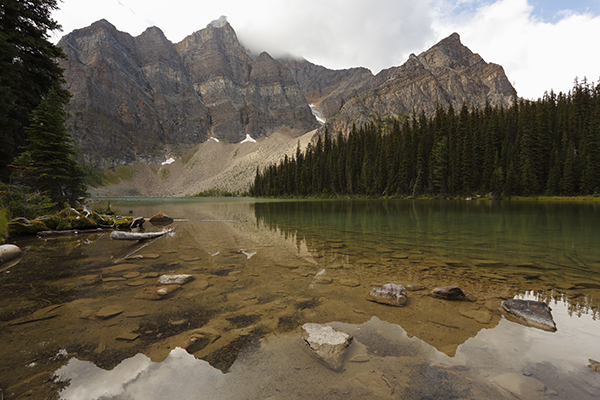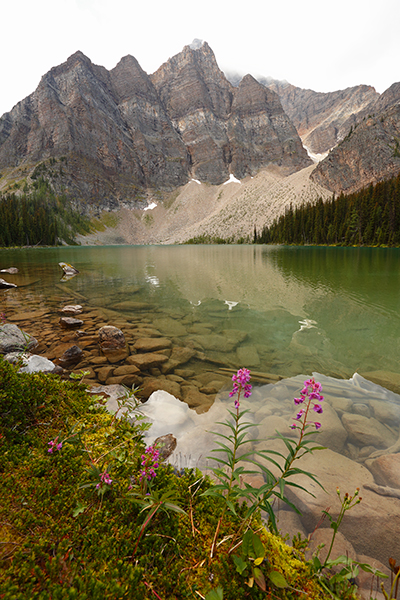 I'd just about reached the western end of the lake before deciding to bushwacking over a ridge and down to Lower Twin Lake.
  I strolled along the lakeshore until I found a rock to rest on and take some photos of the waterfall and the opposite shore reflected on the lake, before deciding it was time to head back to the campsite.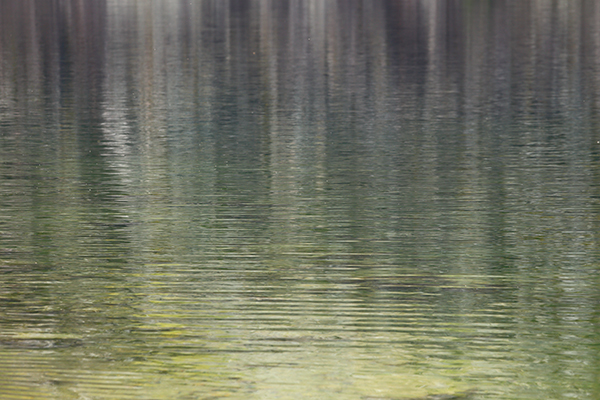 Just as I was about to leave, I noticed a ripple in the water coming towards me. I ducked behind a rock as a mother duck and her baby swam past, 5 or 6 feet out from the shore. I wish I had my long lens on but I'm content to have just the memory.
 It was a short hike back to camp where I realized I had no TP. That was not cool!
 I had time to kill before dinner but I thought the best thing to do would be to rest my feet and try and figure out what to do about my lack of toilet paper.
 After dinner I scouted out locations to photograph the sunset.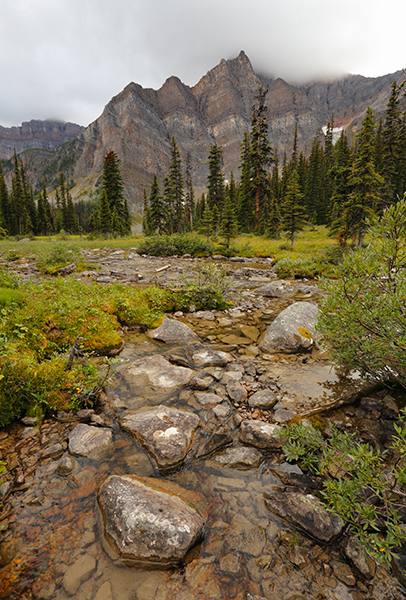 Unfortunately, the sky clouded over and soon a light rain began to fall. Even though it was pretty early, I decided to retire to my tent for the evening. Just before reaching my campsite I noticed a couple were setting up in the site beside me. At least I won't be completely alone overnight.