I'm going to jump to the end of the day. MUMMY LAKE!
  If you're hiking into Egypt Lake campground, there is only 1 destination, Mummy Lake. And don't scrimp out on the amount of time you budget, you'll want to spend all day at this alpine lake.
  In the morning, I awoke shortly after 5:00 am and headed to Shadow Lake to photograph the sunrise. There was a slight mist on the calm lake and a few clouds in the sky. Ball Mountain dominated the far end of the lake and as the sky lit up I started shooting in earnst.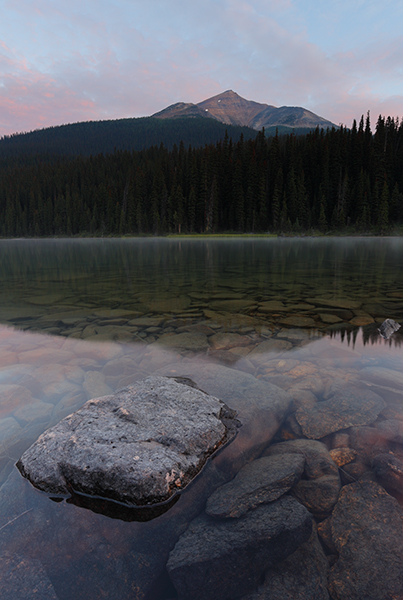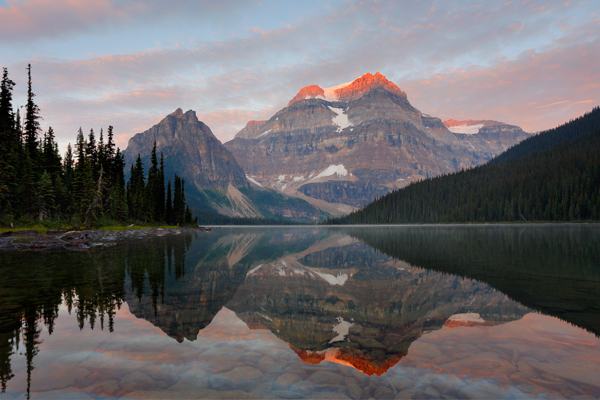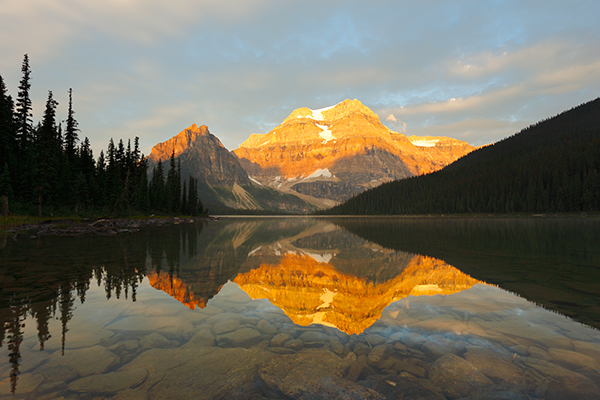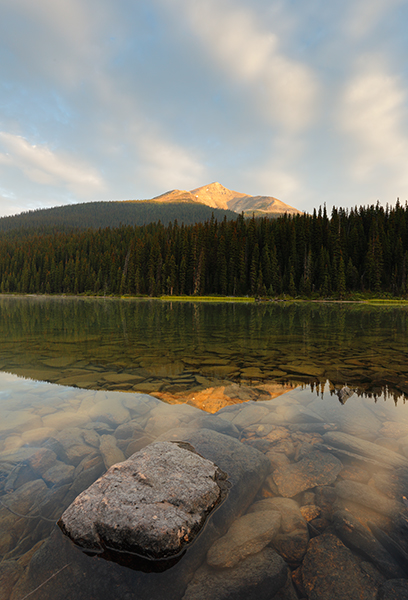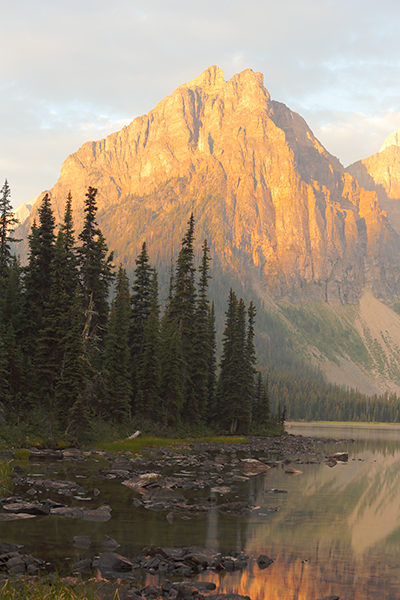 An hour later the best light was over so I headed back to camp.
 I ate a leisurely breakfast and chatted over my 2nd cup of coffee. Then it was off to Egypt Lake. I chose to take the Pharaoh Creek trail so that I could make a loop back to Twin Lakes, but I won't do that again. Not that it's a terrible trail, just low on the scenery (unless forest is your forte).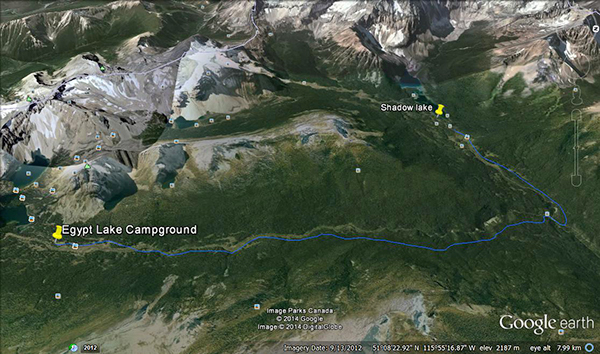 I arrived at Egypt Lake campground about 2 pm and set up camp. The food storage area is quite some distance from the campsites and has several tables ( all the other sites have 1 table). A little meadow was filled with ground squirrels. I must have made quite a sight as I lay on my belly and inched closer to this furry little guy.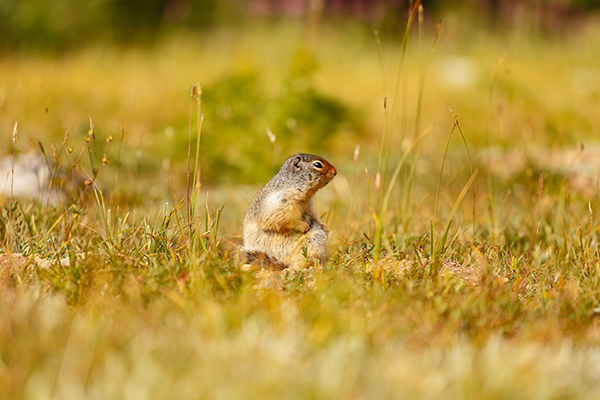 My feet were pretty tired so I tried taking a nap. It was so hot in the tent that I got some rest but couldn't sleep.  By 4:30 I had had enough and I was pretty excited to see Mummy Lake, so I got up and headed out. After taking a wrong turn, I found myself at Egypt Lake.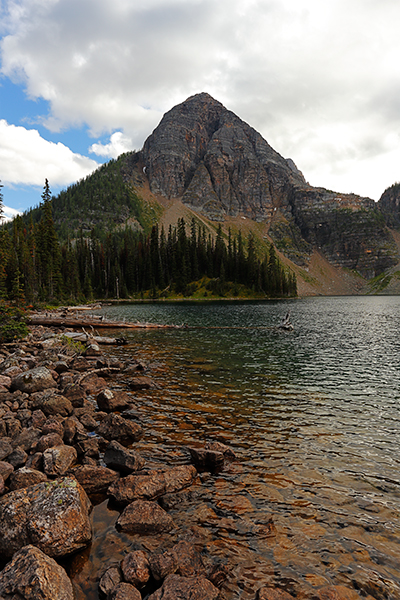 A pretty lake, but I didn't linger as I had other lakes to see. Back on the right trail I quickly realized that this would be no picnic. This trail might be the steepest one I'd encountered so far and tomorrow I'd have to do it again but with my full pack!
  After close to 30 minutes I was finally at the top.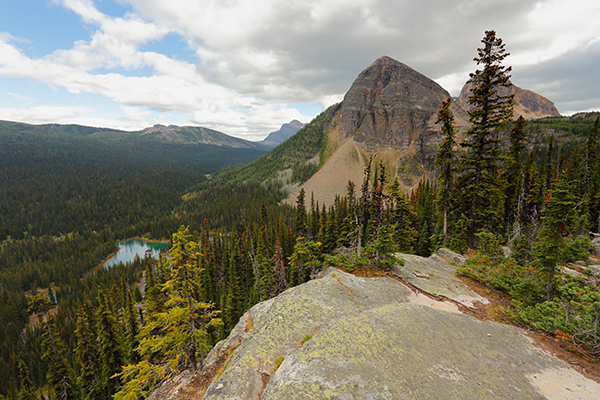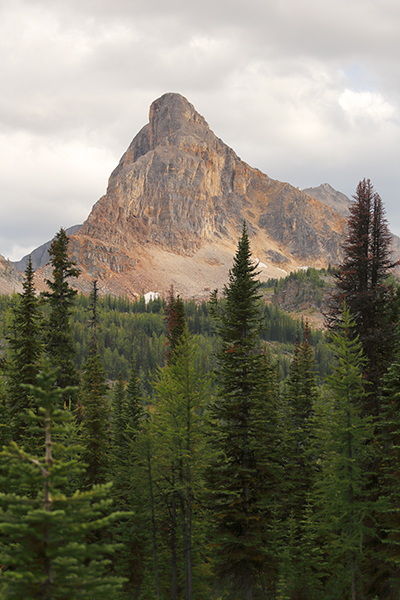 Above on the cliffs, I could see a mountain goat. How the heck do they get around on almost shear cliffs? I snapped a couple of shots but it was too far away. Then the trail goes down to Scarab Lake, a fine lake with an imposing ring of mountains, too much for even my wide angle lens.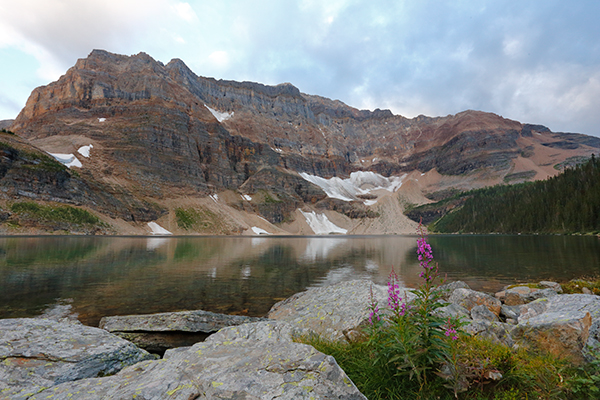 The trail was a bit confusing but I figured it out. I crossed the outlet on a rickety log and began the climb out of the lake valley. More up! I finally reached the crest of the trail and began climbing down to Mummy Lake. My first impression was " this is hardly a lake". The views were good but the "lake" was more of a tarn. It was so windy that I avoided taking any shots of flowers. Thankfully, the cracked mud made an interesting subject.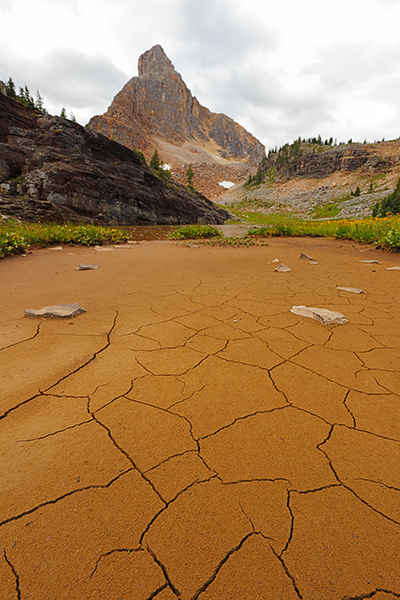 It was just about time to head back. I went to mark the location on my GPS and noticed that I wasn't at the right lake. Mummy Lake was behind a ridge that I had contemplated climbing. With only a little time before the sunset, I hurried up the trail. I followed the path through a rocky section and then climbed up and over a small rise. The light hit the peak behind me and I stopped to capture it.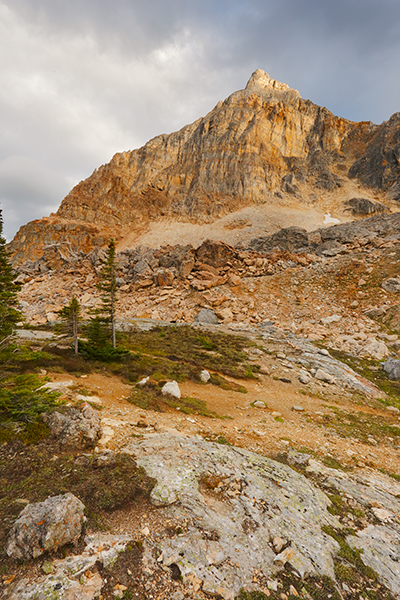 There was the real Mummy Lake! Damn, I wish I had come here as soon as I could instead of resting! The views were incredible and there was plenty of interesting areas to explore. Unfortunately, my time was done. With a few parting shots I began the journey back to camp.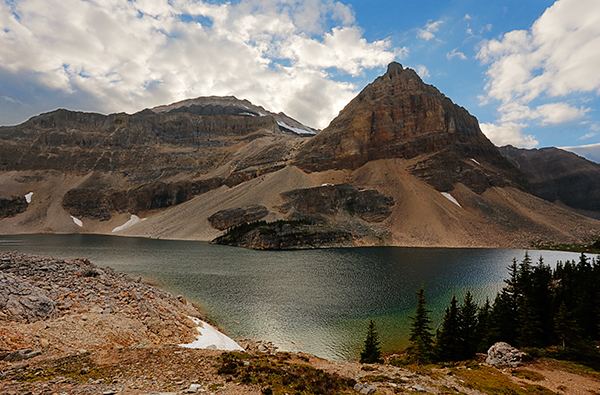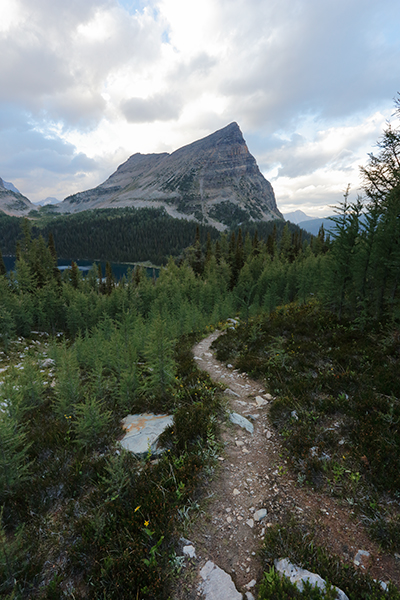 At Scarab Lake I took a little detour and followed the outlet stream until it flowed over a cliff. The footing was solid so I stood on the edge and looked over. It was a long way down! I got a nice shot of the small cascade right before the big plunge.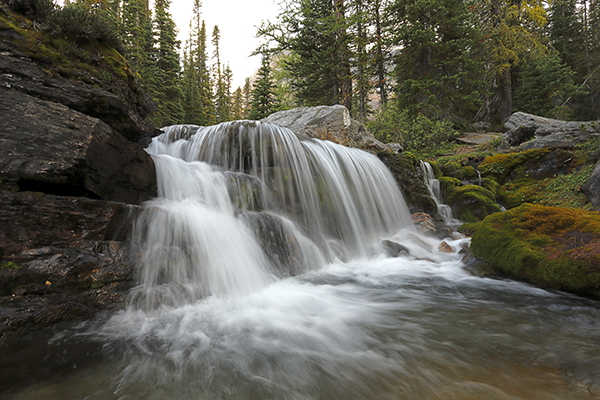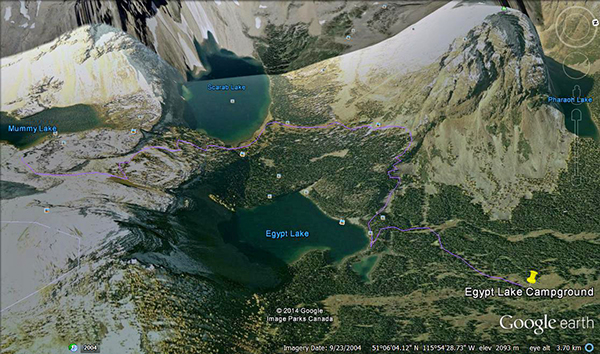 I ate dinner by headlamp and then turned in for the night.