It rained intermittently overnight and I was reluctant to get out of bed. I caught up on my journal before getting ready to face the day. My body had a lot of aches and pains and I wasn't looking forward to the hike today.
  At breakfast the other campers were having a big discussion over where to go for everyone's day hike. I suggested mummy lake but I think they all had their minds set on whistling pass. I was going that way anyways so I said I would see them there.
  I went back to the campsite to get ready for the day, taking my time. With all the campers away on day hikes , I had the place to myself. The ground squirrels became pretty friendly and one came within a couple feet of me.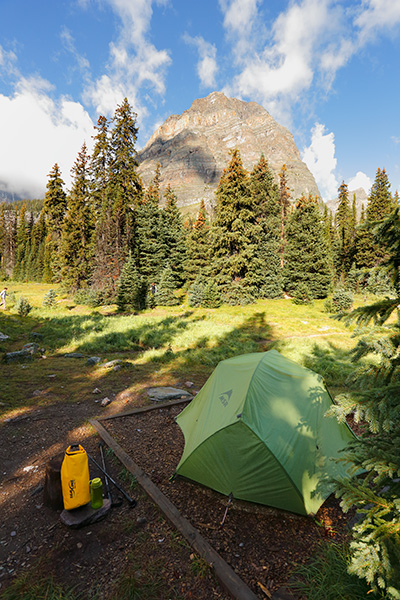 Before I was ready to go, I went down to the creek to get some water for the day's hike. What a great spot for photos! I wish I'd known about it yesterday.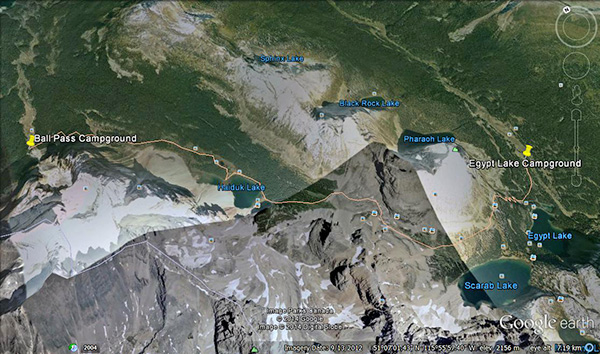 Once I was done it was time to go. I took my time but set a steady pace. This time at the top I took the turn towards Whistling Pass. There was a lot of beautiful scenery and I stopped a few times for photos.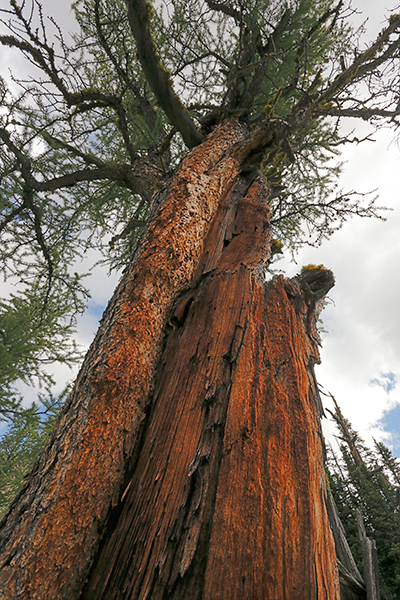 Nearing the pass, I could see a group of hikers making the final push. Ten minutes later I joined them and saw what all the fuss was about. The valley stretched out before me, guarded by giant towers of rock.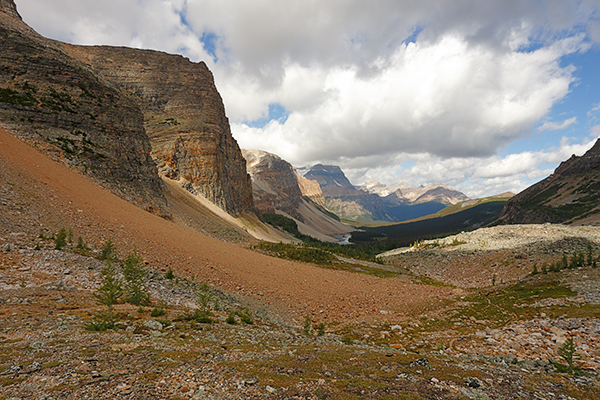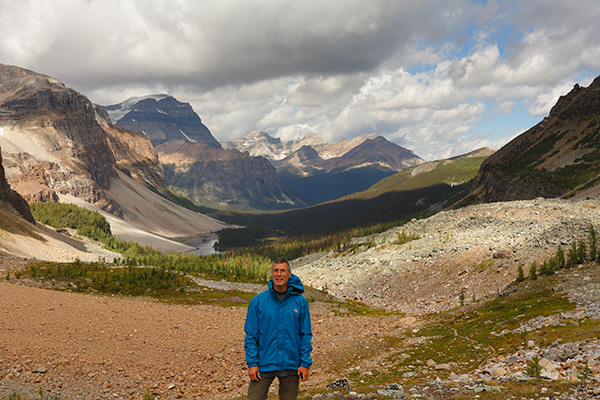 In the distance, Haiduk Lake was like a tiny jewel in a sea of green. It's deceptive also. From the pass it looks like its a short drop down to the lake, but once you're in the forest, you just keep losing altitude. I made a friend along the way. A marmot. It posed for me for quite some time. These are different marmots than the hoary marmot I'm used to seeing near the Lower Mainland.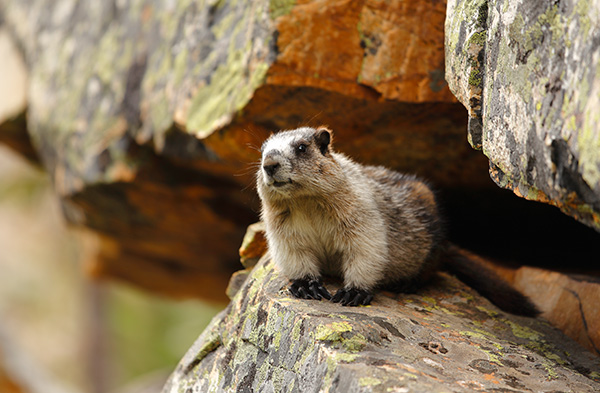 I finally made it to the lake, and once I'd found a suitable location, I took my pack off and rested my feet.
Sitting at the lake, surrounded by these stunning works of nature, I waxed spiritually. The Mountains were like nature's cathedrals, holy creations, raised up to awe and inspire mankind.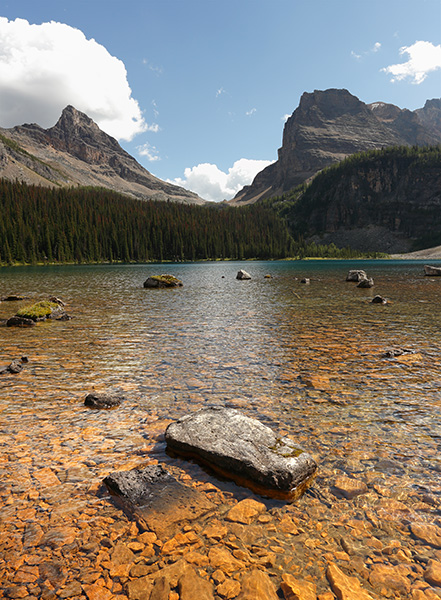 When I'd sat long enough, I shouldered my pack and slowly started moving again. My toes were beginning to bother me so I'd have to pay attention in case they got any worse. I decided then not to do any side trips once I'd reached camp.
  Over the sound of wind and water I could hear voices. Soon enough they caught up to me. They were just day hiking and had no packs to speak of. I let them pass and kept a short distance between us as they seemed to have no interest in chatting.
It was around this time that I realized that I was already thinking about how much I'll miss these amazing views, and I still had almost 2 full days before I'd be back at the truck!
Since leaving Haiduk Lake, the trail had been all down hill and I wasn't excited about the climb up to the campsite. That's when I got a pleasant surprise. The campsite was at the bottom of the valley, I had just misread the map!
The scenery was cool as well!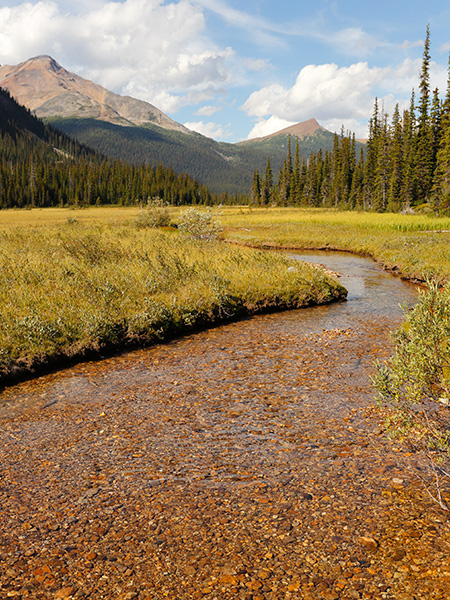 I set up camp and then explored the marsh. There was a neat stream running down the middle of the meadow and I took my boots off and dunked my tired toes into the frigid waters. Obviously it was a glacier fed stream as I could see the melt water flowing down the mountain. I lazed in the sun until a cool wind started blowing. Then I went back to my tent and rested my eyes for about an hour.
  There was a couple at the campsite and the way the trail was laid out, I had to walk through their campsite to get to mine. When I got up to make dinner, I cleared a new path so that they could have some privacy.
  Dinner was a 3 course affair. Cashews for the appetizer, Singapore curry noodles for the main course, and Chicago style popcorn for dessert.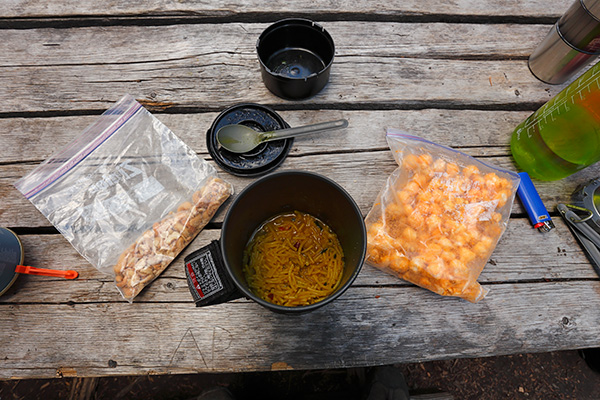 While I ate dinner I kind of decided that I would stop at the Shadow Lake Lodge for afternoon tea tomorrow. Apparently it's the best around.
  After dinner, I filled my water bottles before getting my camera ready and heading out for sunset. While nothing spectacular happened, I still got some nice compositions. And as the last of the light faded from the sky I retired for the night.