My original plan was to return to The Grand Canyon and The Valley of Fire so I figured October would be a good time, weather wise. Then I invited my sons to join me. Devin declined due to work, but Dalen said he would like to go. Only problem was he didn't have a passport. There was a hiccup in his application so with time running out we changed plans and decided to backpack to Mount Assiniboine.
 We left Chilliwack around 3:00 am and drove the 800 kms to the trail head at the Sunshine Village Bourgeau parking lot. There's a shuttle that runs to the upper village that I was planning on taking advantage of, but for some reason they'd cancelled the last one. With no other option, we shouldered our packs to tackle the extra 500+ meters of elevation and 5 kms we had to hike.
 It was quite a grind getting to the upper village but the views to Mount Bourgeau helped me pass the time. 2 hours later we crossed the continental divide. All the vegetation was dead and brown in the upper meadows as we made our way up Quartz Ridge.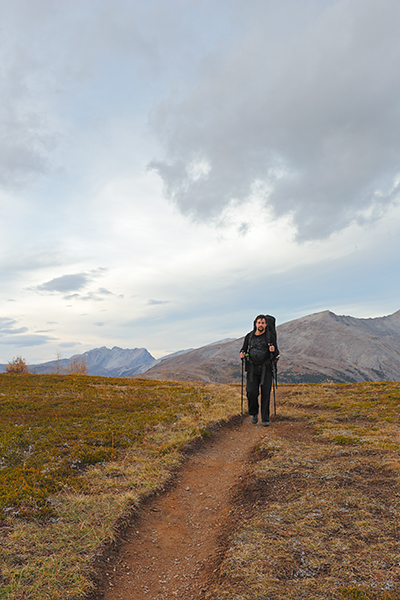 From the top of the ridge we got our first peak of Howard Douglas Lake, our campsite for the night.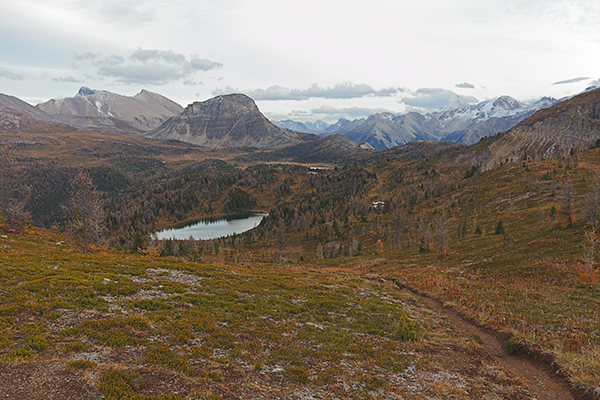 I was thankfull to finally make it to the lake. A sign seemed to lead us to the far end of the lake to get to the campsites but after searching along the trail  with no success we turned back. Apparently the campsites are almost right behind the sign.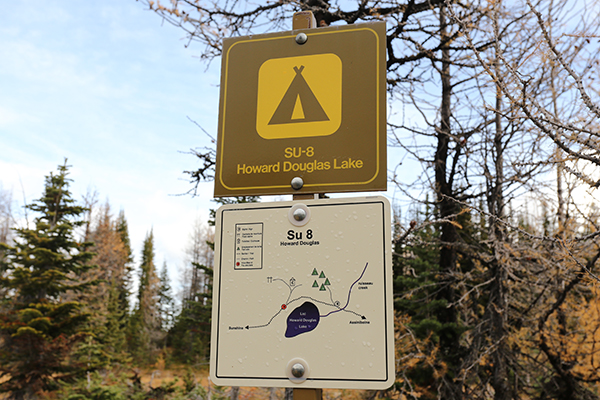 We set up camp and ate before tucking in for the night. With the sky obscured by clouds I figured there was no point in trying to get any sunset photos.
 The next morning it was lightly raining so we stayed in our sleping bags. By about 10:00 the rain had stopped and we crawled out of the tent. Today was supposed to be our long day and we had 16 kms to travel to reach our next campsite.
 The skies began to clear as we made our way out of the lake valley and headed towards Citadel Pass.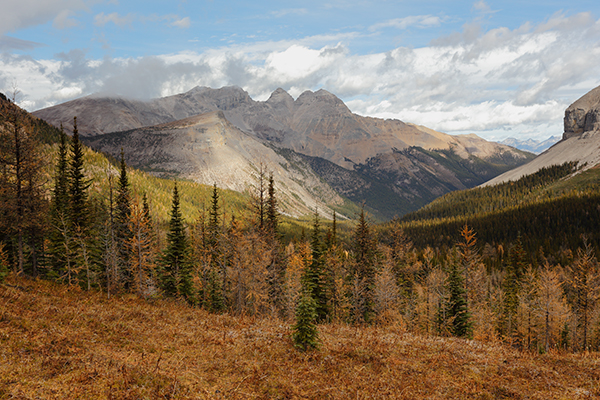 An hour of hiking along the roller-coaster trail brought us to the pass. I got Dalen to pose as we passed Citadel Mountain.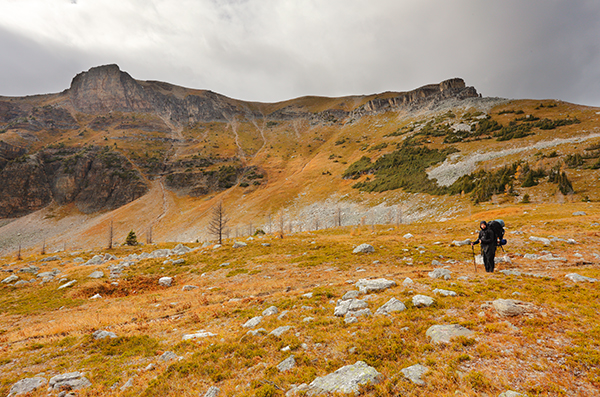 It was an easy descent through the open meadows of the pass. An hour or so later we reached a steep gulley and switch backed our way down about 300 meteres before we began side hilling across the lower slopes of Golden Mountain.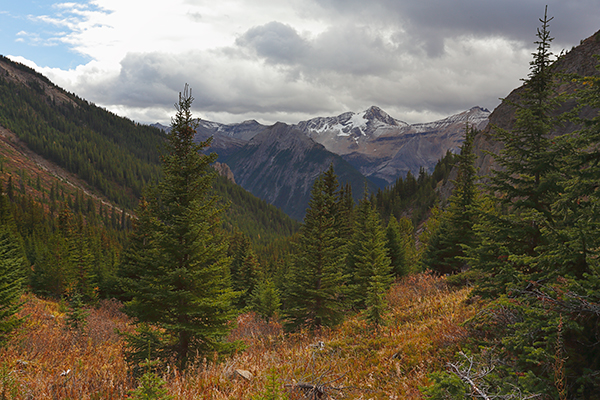 Soon we were in the Valley of  the Rocks, weaving our way up and over, down and around various rock formations. The sky continued to clear as we made our way through the open forest.
 It was dinner time when we caught our first glance of Og Lake. The pinnacle of Mount Assiniboine rose above the distant hills as we arrived at our campsite.

 After setting up camp, I quickly ate dinner and then hurried down to the lake to watch the sunset. A few whisps of clouds promised a glorious spectacle but most of the best light happened away from my shots. When I recomposed to include the best colours, I lost sight of my subject. I did get a couple of nice pictures of Assiniboine as the light faded.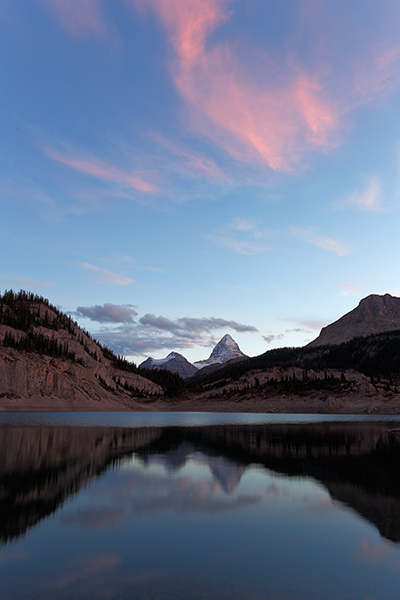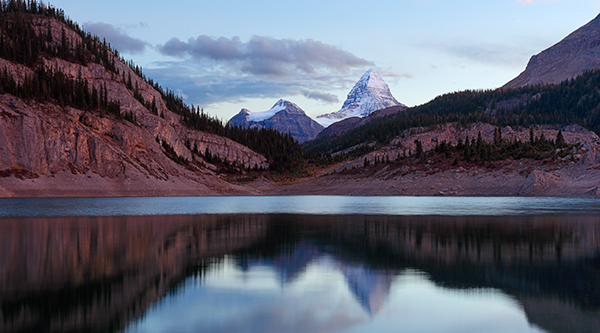 The next morning, a soft breeze ruffled the surface of the lake, so I explored the rocky shoreline before climbing a small rise.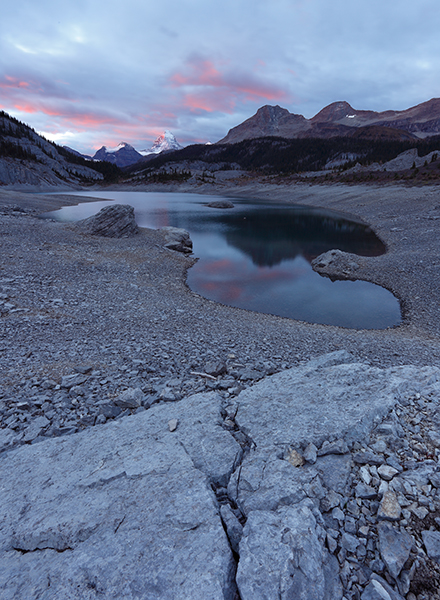 Today was our shortest hike so Dalen and I took our time packing up before getting on our way. The trail winds past the lake before emerging into a wide open meadow. Assiniboine was directly ahead of us but the best light was behind us, lighting up Golden Mountain.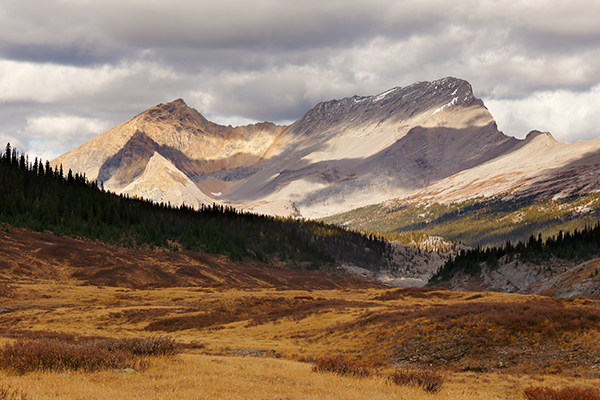 After 7 kms we arrived at Magog Lake at the foot of Mount Assiniboine. A few minutes later we were at the campground, which was deserted. I picked a site near the food cache and the outhouse, and we set up camp. Dalen suggested taking a nap so we rested for an hour or so.
 There was still plenty of day left and I was getting restless to explore the area. I convinced Dalen to get up and we set out to have a look at the surrounding landscape.
 The skies were threatening when we reached Sunburst Lake. Sunburst Peak made a great backdrop for this pretty, little lake.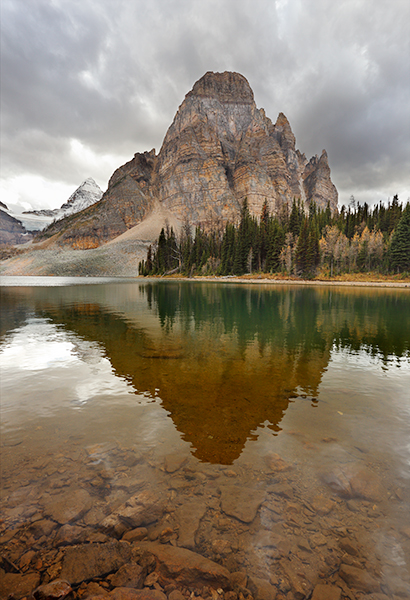 After Sunburst Lake we came to Cerulean Lake, also backdropped by Sunburst Mountain.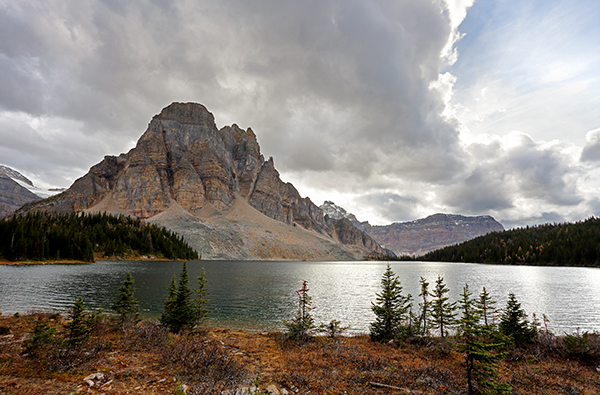 We skirted around the lake for a bit before striking off north, toward Elizabeth Lake. Dalen's energy level was low but I had no idea when or if we would ever be here again so I pushed him to continue. Once at the lake there was no way to keep me from going up Chuck's Ridge, I had to see what was on the other side. A short climb later and we peered into the next valley, dominated by Nestor Peak.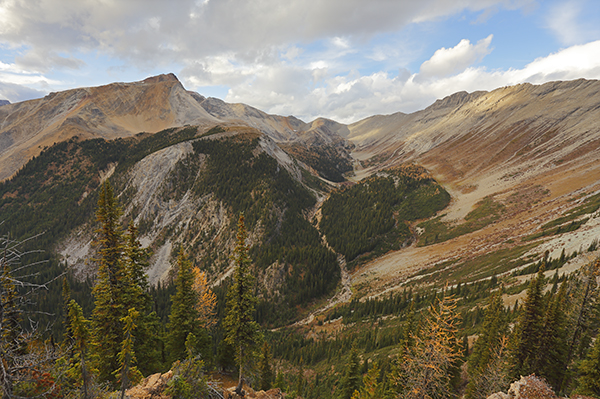 By this time, Dalen was done. We turned around and retraced our tracks back down to Elizabeth Lake. Along the way, I stopped to do a panoramic shot of the mountain ridge to the south.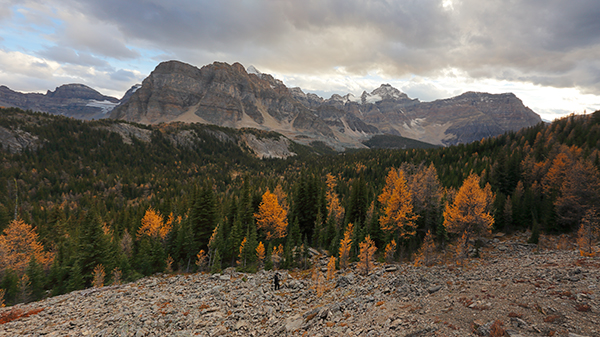 By the time we got back to camp it was time to eat. We made dinner and ate by headlamp as the sun set and darkness fell.

 My son suffers from allergies and sensitivities and at this point he mentioned that his skin was becoming uncomfortable. He suggested that we try and cut our trip short by a day. The only feasible way to do that would be to hike 23 kms back to Howard Douglas Lake tomorrow, and then hike back to the truck the next day. With a plan in place we crashed for the night.
 The next morning, I got up at 6:30 and headed down to the lake to see if I could get a good shot of the sunrise. I wandered along the pebbly shore and took a lot of photos but nothing impressed me until close to 8:00. With a long day ahead of me, I bashed my way back to the trail and followed it towards camp. 15 minutes later I began to think I might be going the wrong way. A few minutes later I knew I was headed in the wrong direction and turned around. Thankfully I hadn't gone too far.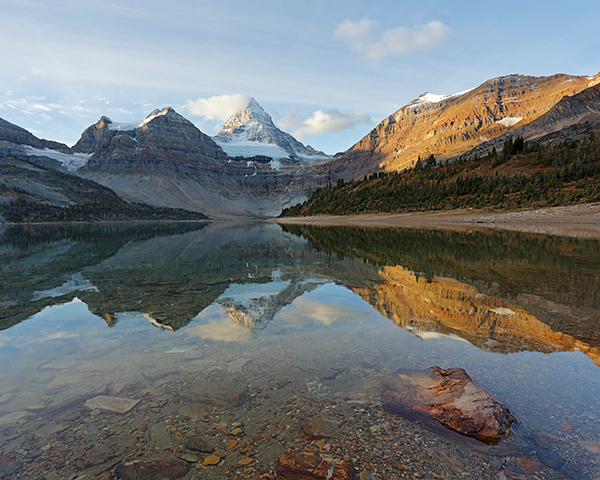 Now, I've hiked 23+ kms quite a few times before, but to do it on day 4 with a 50 lbs pack is a different story.
  The trail back to Og Lake is pretty much flat and we set a quick pace. After stopping for lunch beside the lake, we basked in the cool sunshine. Then it was back into the Valley of the Rocks and the meandering, undulating trail.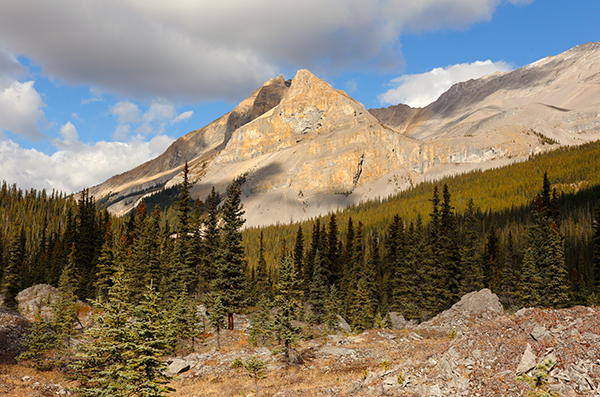 After 6 kms of putting one foot in front of the other, we emerged from the valley and started traversing below Golden Mountain. This was the section I was least looking forward to, the steep switchbacks leading up to Citadel Pass. After hiking over 14 kms, this seemed like a cruel punisment. We trudged onward, our water supply running low. I was hoping to find water somewhere along the way, but so far the trail had been dry. After what seemed like an eternity, we finally made it to the plateau at the beginning of the pass. We found a little stream that bubbled up from the ground, ran in a circle, then ducked down into a hole. It was just deep enough for us to filter and it tasted great!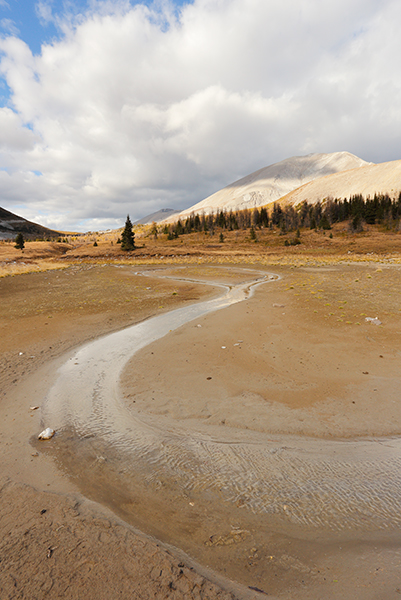 We lazed about long enough to cool down, then it was back on the trail and up and over the pass. There was one more ridge before we finally made our way to Howard Douglas Lake. I was so done! It was after 5:00 pm so we had dinner before getting ready for the night.
 I spent the last of the light taking some photos and then crawled into bed by 7:00.
 The temperature dropped overnight and it was below freezing when we awoke in the morning. The frost on the ground was an inch thick! We were in no rush but we got up anyway. I put on every layer I had to stay warm. After a hot breakfast and a couple cups of coffee we packed up and hiked the final 11 kms back to the truck.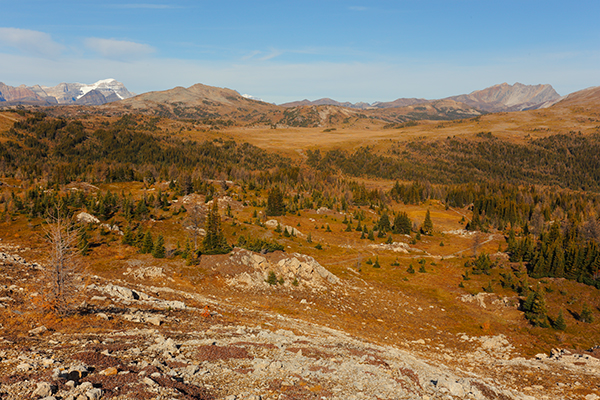 We saw less than a dozen people the whole trip and the weather turned out pretty good.
  There's so many places on my list that I'm sure I'll never get to them all, but I'm glad Dalen and I were able spend this time together in this beautiful place.