I was looking for a backpacking trip this summer and when Clayton suggested Skoki, I quickly agreed.
 The plan was to hike to Hidden Lake the first day and then to Baker Lake on the second day, where we would set up base camp and explore the area.
 After the long drive from Chilliwack, hiking the access road was a tough chore, made slightly easier by some nice views back towards Lake Louise. We reached the ski lift area after 7 kms of road walking and took a short break. From there the trail heads into the forest for awhile until it opens up just before the campground.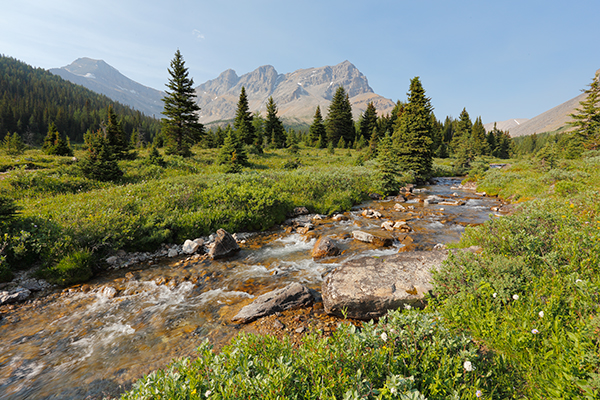 It had been a long day so we set up and had dinner, after which I walked back to the half-way hut and did some photography.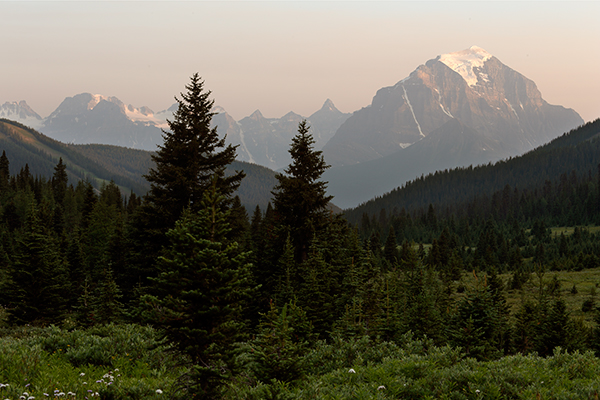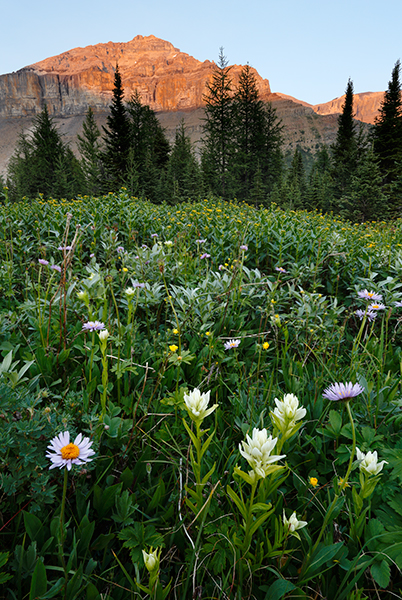 I awoke in the middle of the night to a marmot trying to chow down on my backpack. After shoeing it away, I slept the rest of the night with one ear open.
 The next day, Clayton said he wanted to hike Mt Richardson, the highest peak in the area. I was game as long as it didn't require alot of exposed scambling. Clayton assured me it didn't so we set off. We reached Hidden Lake in minutes,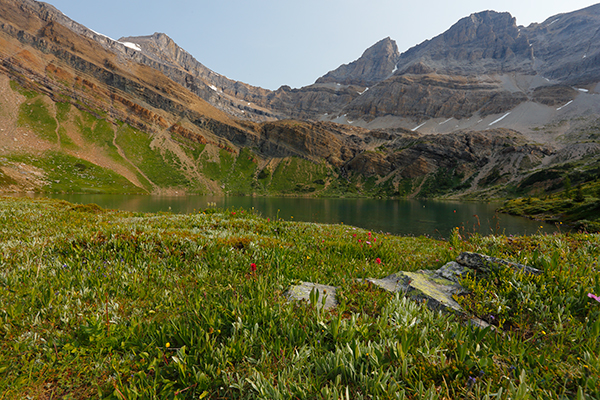 and I noticed bouys in the water. I was just pointing them out and saying that I thought they had something to do with the re-introduction of a native trout species when the woman who was doing the research showed up. We discussed her work for awhile before tackling the steep slope leading to the ridge.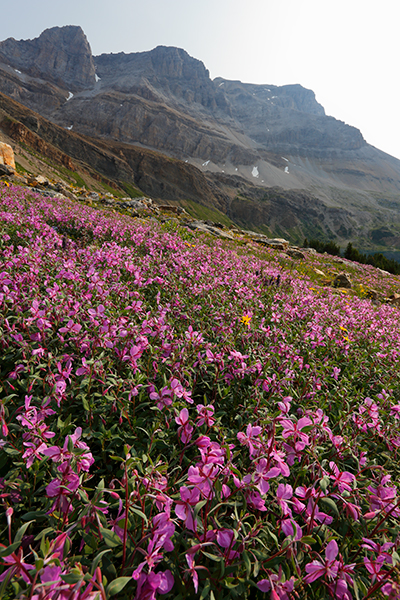 The work wasn't done when we gained the ridge and it didn't help that a false summit gave us false hope that we were close to the peak.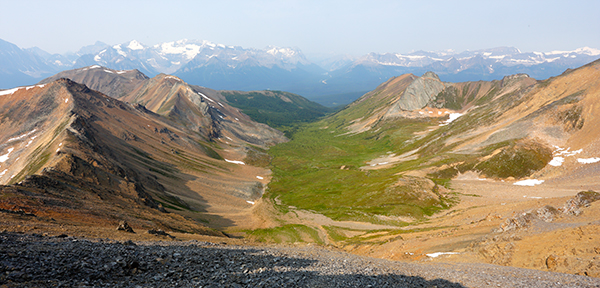 The rock to the side of the trail made for better footing so we picked our own paths. One more false summit and then our true goal was in sight and I was standing on my highest peak minutes later.
 Even with the clouds and haze, the views were fantastic! Looking over the edge, Merlin Lake was directly below us, it's waters an incredible blue.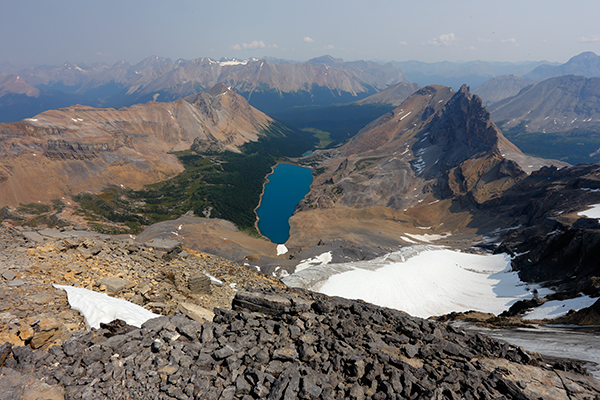 We spent amost an hour at the top before heading back to camp.
 After lunch and a short siesta we packed up camp and headed to Baker Lake. It's only a 6 km hike but after summitting Richardson it was quite a trudge gaining Boulder Pass. As we walked along the shore there was a brief rain shower and we donned our rain gear, only for the rain to stop minutes later. The trail led away from the lake so we decided to follow a faint trail through the flower filled meadows. That was fine until the way dipped into the forest-covered slope above Baker Lake. Some easy bushwhacking got us to the lake where we hooked up with the trail, no worse for the wear.
 Hiking through the waist high bush disturbed some kind of flying insect, and it swarmed us as we walked.
 We finally made it to the campsite where we were able to set up before the rain began in earnest. I spent the rest of the night in my tent reading and then slept through the sunrise, missing the best light. That said, I dragged my ass out of my sleeping bag and grabbed my camera, hoping that there was still a bit of good light left.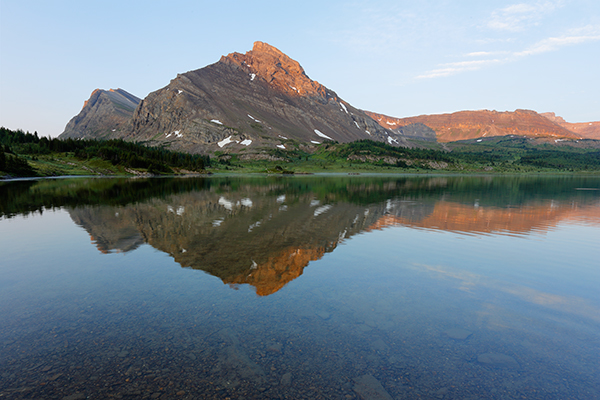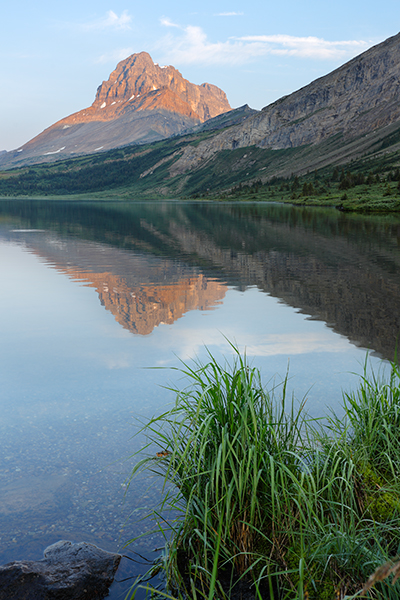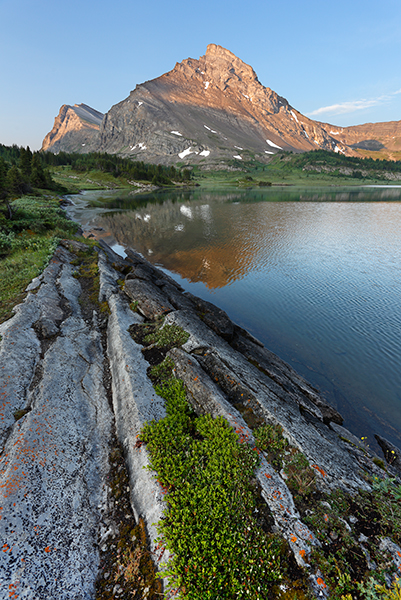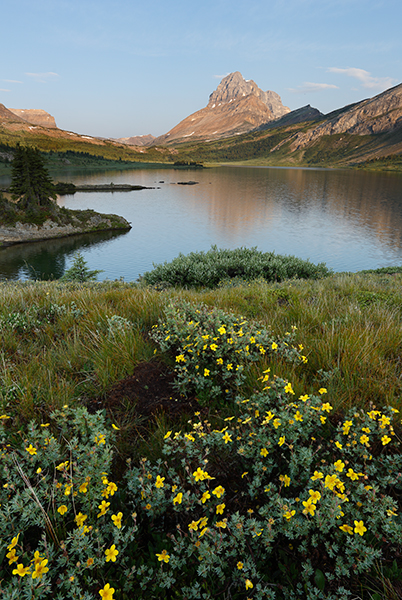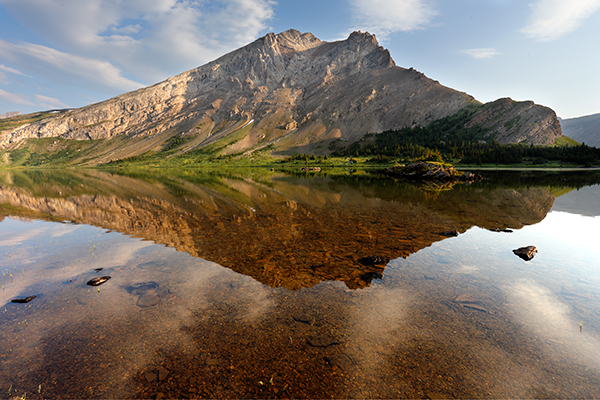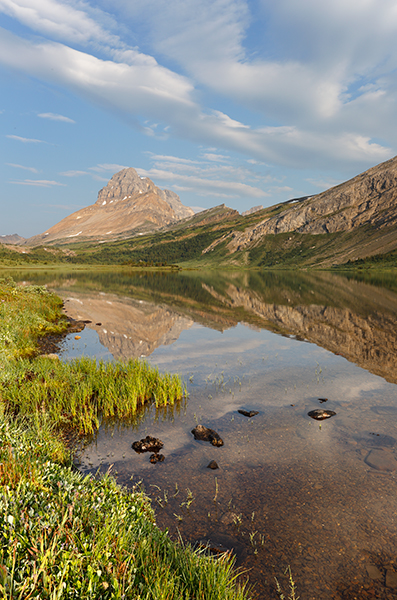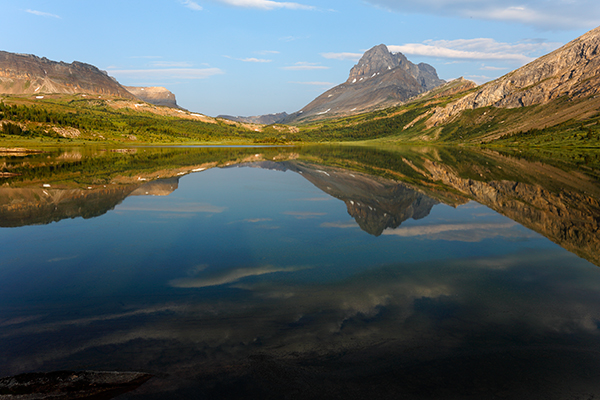 I just realized that my camera's clock didn't automatically switch to Alberta time like my phone did!
 That means that I wasn't at the lakeshore until 6:30 am. I spent an hour taking shots before I headed back for breakfast. There were dense clouds of these bugs coming off the trees and I had to hold my breath and close my mouth tostop from swallowing them!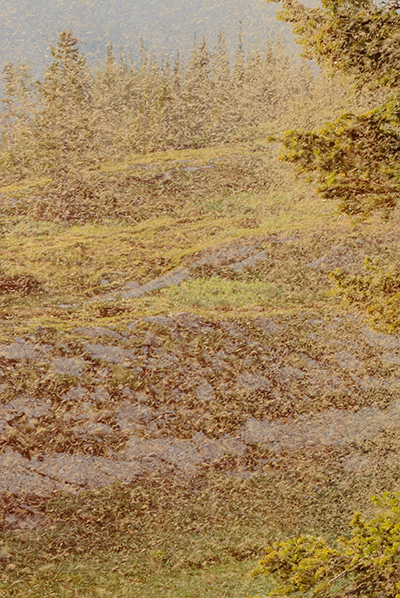 Clayton wanted to climb some more peaks today so we set off for Brachiopod Mountain. With no trail to follow we just picked our way along until we reached the foot of the mountain. From there it was straight up! The last bit before the summit had some easy scrambling and it wasn't long before we were soakin in the views.
 It's almost impossible to convey the shear cliffs I was leaning over to get some shots, and the vertigo I felt as I thought about what one wrong move could mean.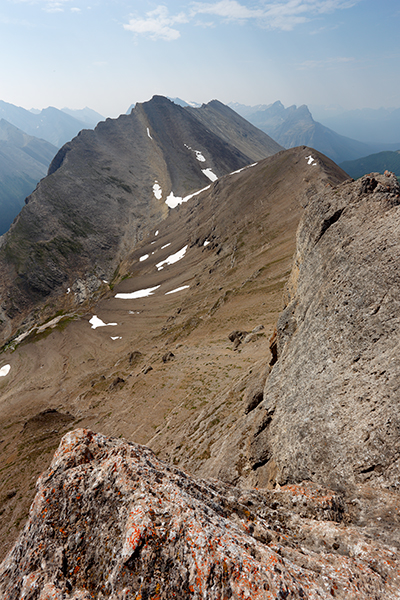 We tried to traversve the ridge to a lower peak instead of down climbing, but ran into some unfriendly cliffs. Instead, we decided to sidehill our way around, eventually winding up at the bottom anyway. Clayton was keen on climbing the next peak along the ridge, Anthozoan Mountain, but I was done. I told him I would wander through the lower meadows and meet him back at camp. I gave him the rest of my water and we parted company. 
 The rolling meadows were covered in flowers and I walked around with my camera out, stopping constantly to take photos.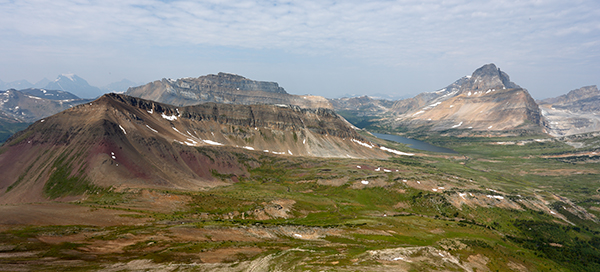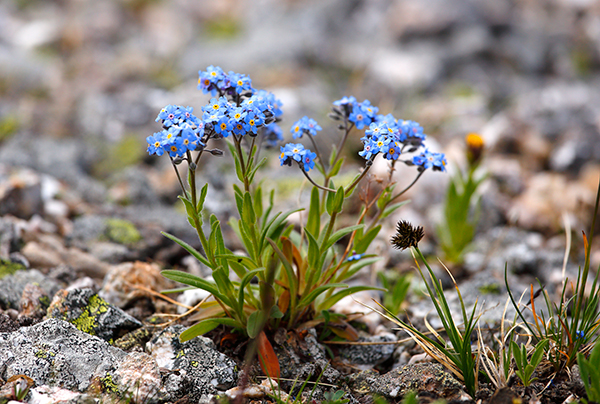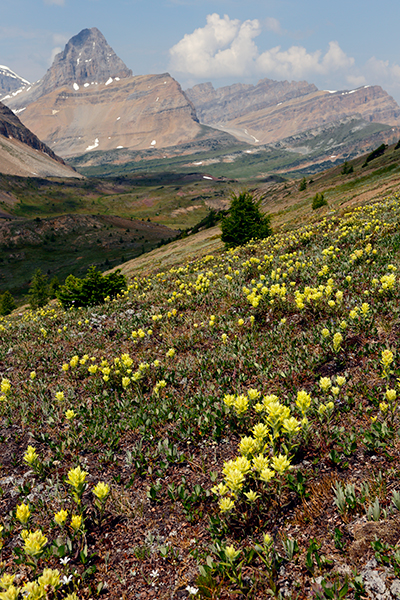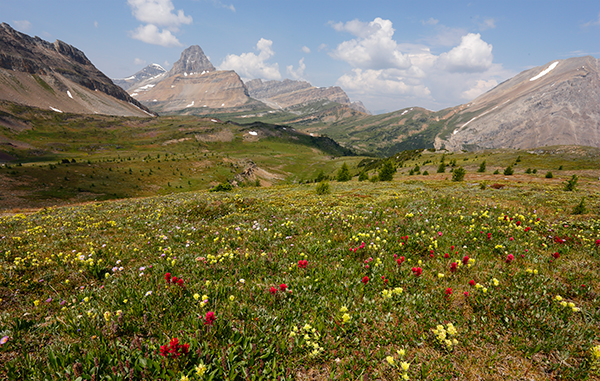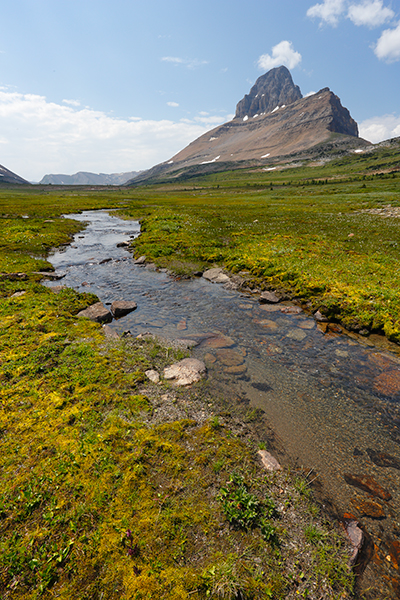 I angled towards the outlet of Ptarmigan Lake and after a couple of hours enjoying the day, I could see the trail that we had missed yesterday. It wasn't long from there that I was back at camp.
 While I had hoped to do some more photography that evening, the weather didn't cooperate. After dinner I was back in my tent, thankful that I had brought a good book with me.
 Later that evening I heard someone banging on something, almost like a drum but with less rhythm, bang, bang, bang, bang, bang. I wasn't fully aware of it but remember thinking," what were they thinking, bringing a drum to a campground?" A short while later Clayton came to my tent and told me there was a porcupine trapped in the outhouse and it wouldn't come out. I got up and grabbed my camera and sure enough there it was, quills all bristley. The banging I had heard was Clayton trying unsuccessfully to scare it out. There was a short shovel in back of the outhouse and I suggested using it to lift the porcupine out. After a couple of tries, Clayton was able to get the blade under the porcupine and lift it out, setting our prickly friend loose.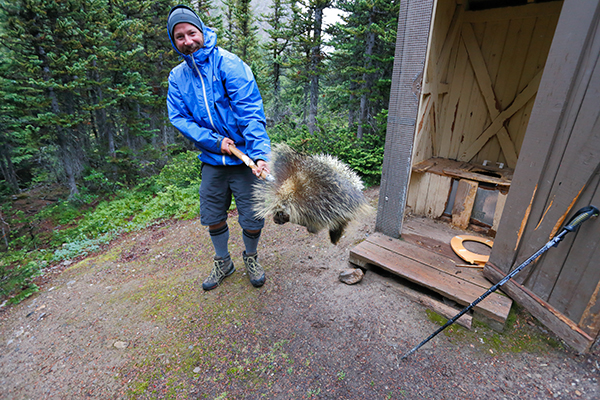 Once the excitement was over I went back to bed.
 The next morning was cloudy and I stayed snuggled in my sleeping bag well past sunrise. I found that during the middle of summer, mornings come too early!
  Even though the weather was less than ideal we decided to make the most of our last full day in the park. We headed west along the lakeshore until we started climbing towards Deception Pass. From the pass we decided to tackle Fossil Mountain. There was a faint trail that tacked eastward before heading skyward. The loose rock was terrible to hike on, for each step up my foot would slide halfway back. I kept looking for better footing and found that the larger rocks were easier to walk on. At one point I knocked a rock loose and it tumbled down the mountain. It just kept going and seemed to take minutes to reach the bottom, where it finally stopped. I was glad no one was following us.
  At the summit there was a plaque commemorating a couple of skiers who died in an avalanche.
  We took in what views we could and had a snack before turning around and heading back down.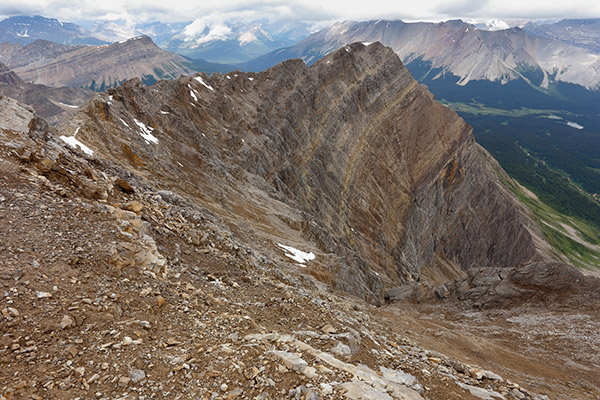 The loose rocks that were a nightmare to ascend were a dream to descend. It was almost like skiing and we were able to get back to the bottom in no time. The Skoki Lakes were inviting but instead of getting up close to them, we followed the trail north to the Skoki Lodge.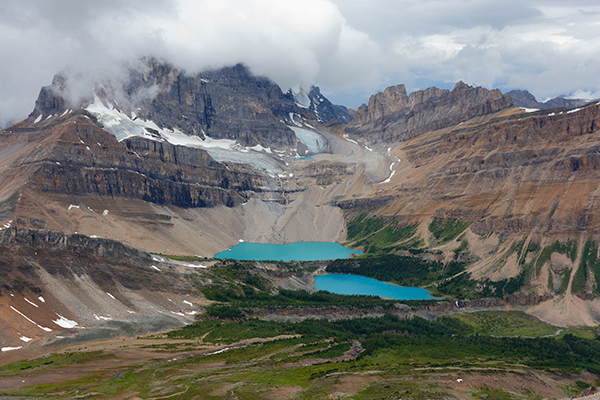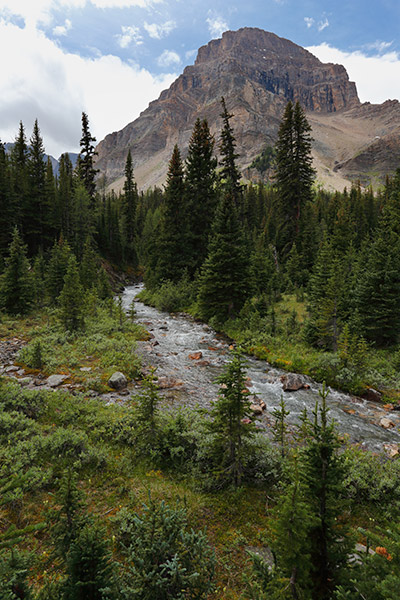 After a short stop, a break in the clouds encouraged us to climb Skoki Mountain. Clayton talked to one of the employees who said it was about a 2 hour hike. I said it would probably take us 3 hours after already summiting Fossil Mountain.
 The trail headed up through the forest and we plodded upwards, maintaining a steady pace. It wasn't long before we broke free of the trees and were once again confronted with a loose, rocky slope. The wind picked up and there were some ominous clouds blowing in over Mount Richardson. I suggested we pick up the pace as I didn't want to be caught in a storm on the exposed summit.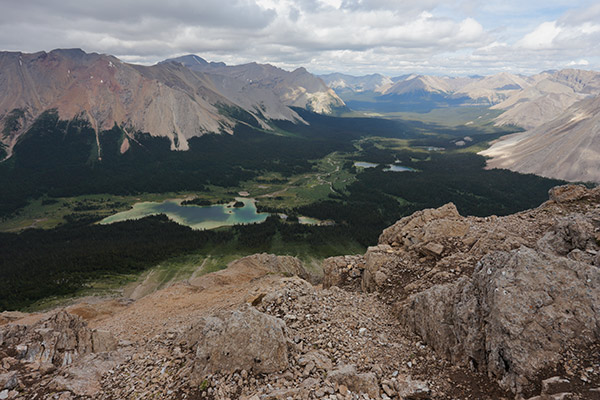 From the top, Clayton eyed up a different route down the opposite side of the mountain that would save us hours off our day, but we couldn't quite see to the bottom, and there looked to be something a little iffy near the bottom.. It would suck if we were cliffed out just before the bottom and had to return to the summit and retrace our steps. There was a band of coloured rock descending from the peak. This loose rock made for a fun, quick trip down and we made it back to the lodge in just under 2 hours.
 The storm that I'd seen from the top of Skoki never materialized and we made good time walking the easy trail that wound around Fossil Mountain.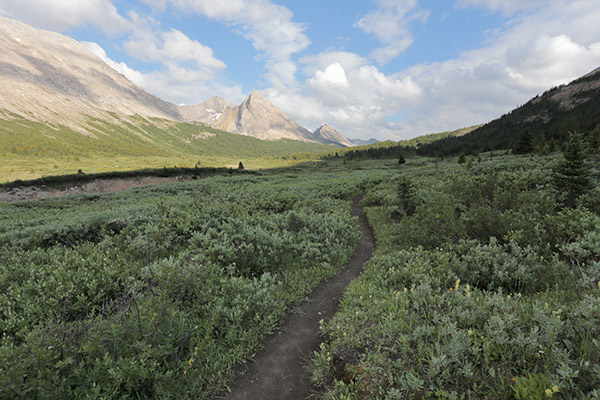 After the long, tiring day I couldn't bring myself to try and do any photography. My feet were pretty sore as well so after a late dinner I retired for the night.
 The next morning I was still too tired to get out of bed so it was after 9:00 am before I could muster up enough will power to start packing up. With 13 kms to hike and then a 9-10 hour drive we got started a little before 10:00.
 The wildflowers between Baker and Ptarmigan lakes made us stop to take a few last photos.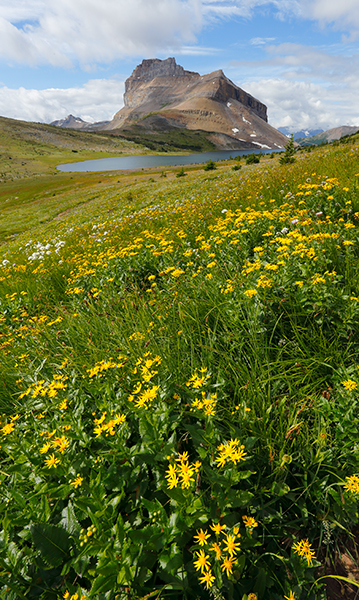 We stopped at the half way hut for a quick break and then again when we reached the upper ski area. I could see the rain moving in so I forced my aching feet to keep moving, hoping to reach the truck before the skies opened up.
 We didn't quite get away dry but we missed the worst of it.
 While this wasn't the trip I was looking for, I had a great time. My last 2 trips I didn't climb any mountains and this trip was more about peak bagging than photography but it was still an awesome adventure.
 Once again I'm left wanting more of this beautiful landscape and I'm already planning another trip to the Rockies!