Upon returning from Waterton Lakes, I was surprised to see that someone had replied to an ad I'd placed on clubtread. I'd been looking for someone to accompany me on a circuit tour of the Sawback Range in Banff National Park for almost 2 years. I sent off an email to James from Edmonton to see if he was still interested. He was, so we synced up our time off and made plans.
 On most of my trips so far I would drive to Golden and then spend the night there before heading to the trail head the next morning. This time I found an inexpensive hotel in Sicamous so I stayed there. It meant that I still had a 3 hour drive in the morning but I was able to make it to Lake Louise by noon.
 With an eye on the forecast, I was apprehensive of doing a loop trip. If the weather took a nasty turn we could be stuck a long way from comfort and safety.  One final check at the visitors centre showed a slight improvement so we booked our campsites and headed to the trail head at Moose Meadows.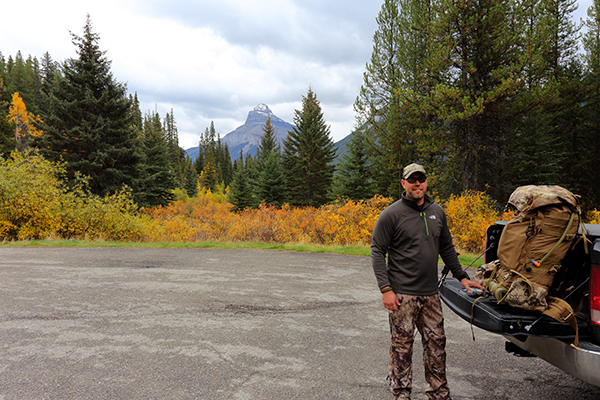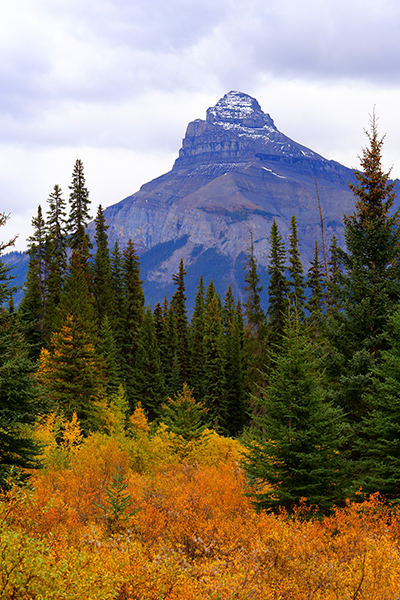 As we put on our boots and made final adjustments to our packs, clouds covered the sky. It was actually great weather for hiking, nice and cool, as we headed up the easy trail through the forest. All to soon, the trail joined an old fire road and began to climb. We passed lots of folks who were daytripping to the ink pots, as well as a couple of young women who'd camped at Luellen Lake  the night before.
 After 2 hours of steady hiking we arrived at the ink pots. Maybe on a sunny day this would make a pleasent spot to stop and enjoy the sights, but today it seemed a little drab. We rested just long enough to get a few photos before pushing on.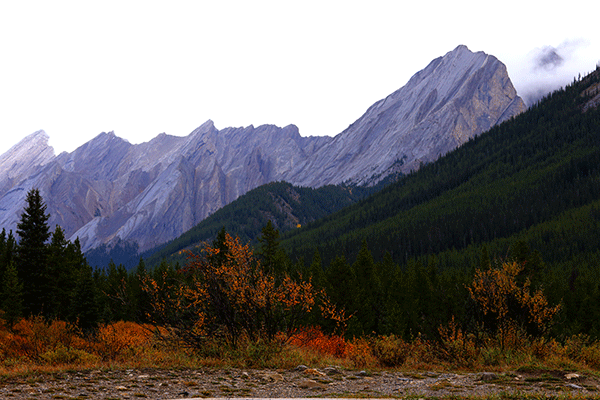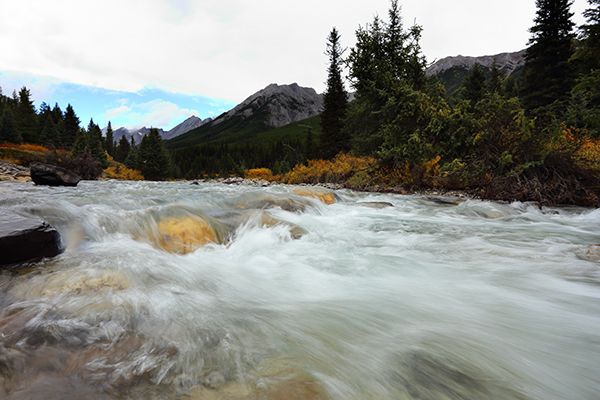 This leg of the hike was a steady journey up the forest enclosed valley. We reached the first campsitequickly, but since it had zero views we'd opted to not stop there and instead, carry on to Luellen Lake. It would make for a long day with full packs but I was hoping the scenery would be worth it.
 By the time we reached the turn off for the lake, I was hiking on fumes. Maybe I'd packed too much stuff. I'd brought my 3 man tent because I wanted the extra room to try and stay dry if it rained hard, but that added 2 pounds to my pack. Anyway, that last kilometer was equal parts wanting to lie down right where I was, and the excitement of reaching camp.
 The first views of the lake were less than incredible as the cloud cover completely obscured the surrounding mountains. In the gathering darkness we set up our tents, had dinner by headlamp, and then retired for the night.
 Not much had changed in the morning and James and I ate breakfast beneath a couple of trees, trying to stay dry. We discussed some ideas about our plans for the day, deciding that since we had a day to "waste", and today was supposed to be the worst day, weather wise, we would hangout close to camp. I didn't see any reason to try navigating a high mountain pass in what could turn into white out conditions.
 After sitting around for a couple of hours we decided to go for a little stroll along the shore. A light mist was falling but we thought nothing of it.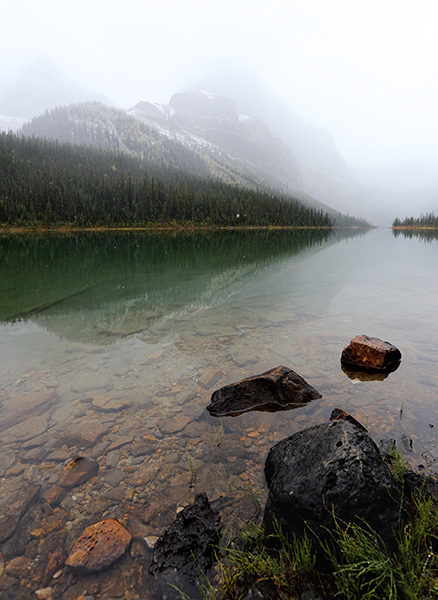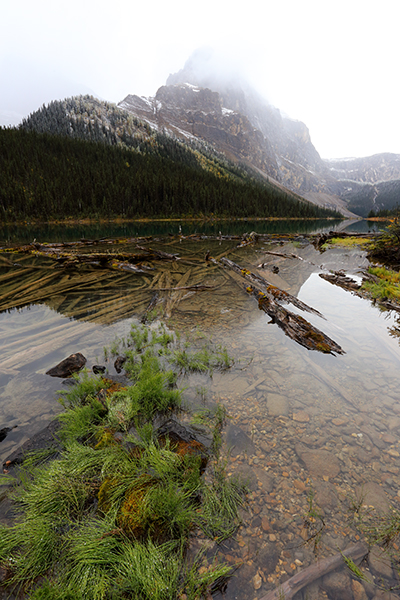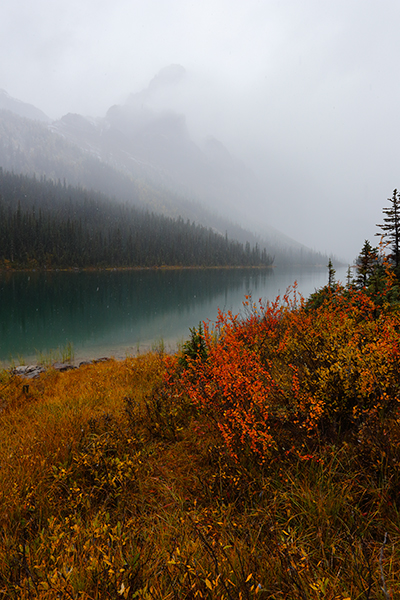 There's a waterfall at the head of the valley and as we continued around the lake I thought it would make a nice destination and provide a good photo op.
 An hour and a half later we were at the foot of the falls and the mist had turned to mixed precipitation. We climbed up the hillside to get a better perspective of the cascades, at one point encountering some slippery footing.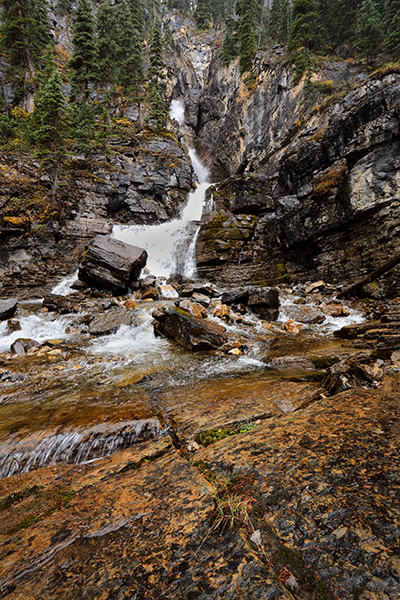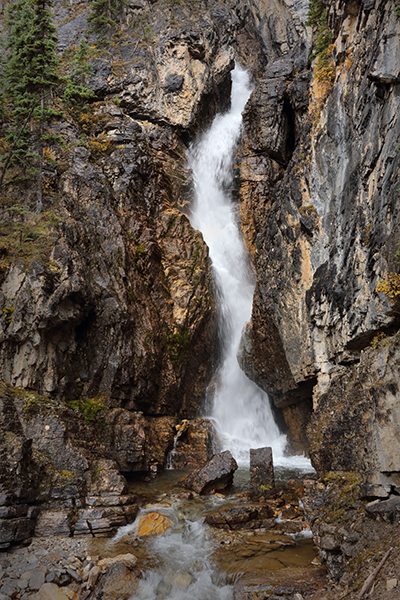 Not wanting to get hurt, we turned around and began the journey back to camp.
 By now it was snowing but it melted as soon as it hit the ground. James and I both had wet feet, and I had made the mistake of not removing one of my base layers that I sleep in. Half way back the snow intensified and started piling up.
 Back at camp I dusted the snow off my tent and snuggled into my sleeping bag to warm up. I hung my wet garments inside the tent hoping they would dry out. Lying inside I listened to the slithering of the snow as it slid off the tent. I read my book for awhile until it seemed the snow had stopped. I flicked the side of the tent and the layer of snow that had built up, fell off. Then I could hear the snow again, still coming down. Outside, I could hear James walking back and forth presumably getting something to eat. I thought that was a good idea so I got up to join him. 
 The tempeture had dropped and my boiling hot, noodle soup cooled down quickly. After dinner it was back to my tent where my clothes hadn't dried out yet. I put on all of my dry clothes and then huddled in my sleeping bag, reading more of my book.
 In the middle of the night I awoke disoriented. My tent had collapsed under the weight of the snow and I had a difficult time figuring out what had happened. I finally got myself rearranged but now more of my gear was wet, including my sleeping bag.
 Just after dozing off, the tent collapsed again. This time I got up and went outside, removing all the snow from around the tent.
 In the morning I stayed in bed as long as I could. At this point, I couldn't any way that we would be able to complete our hike. The cold had sapped all of my desires except to be warm again.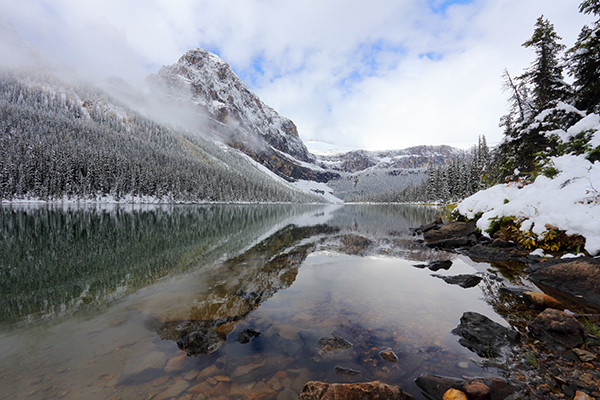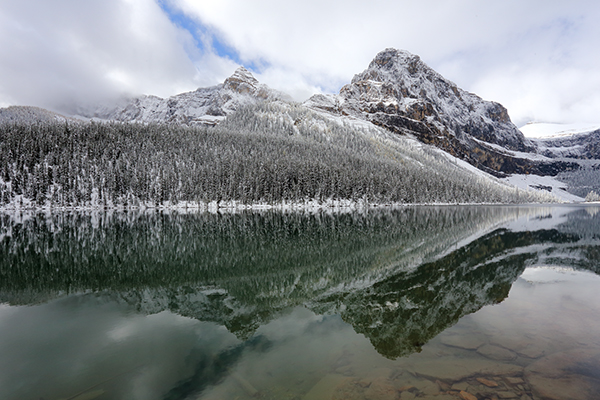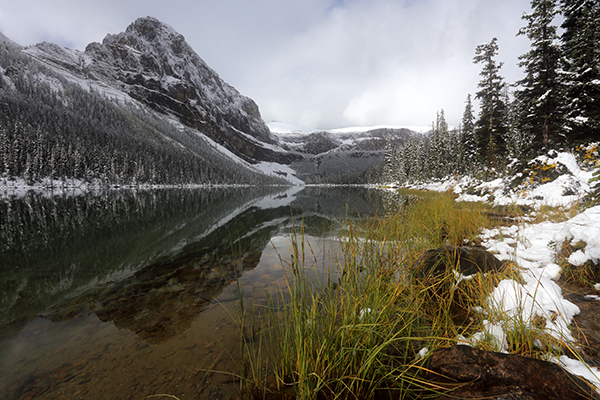 While the fresh carpet of snow made for some good photography, it wasn't long before I was back in my sleeping bag. James and I had discussed our options again and decided that the wisest course of action would be to just sit tight for the day, then hike out tomorrow. It was a good thing that I'd brought a good, long book with me.
 In the middle of the afternoon I heard voices. A group had hiked through the snow to reach the lake. They were setting up their camp next to me and I could hear James talking with them. I got up to see who had joined us, to discover it was a group of teens on their grad trip! It was nice to have some company and James and I helped them to get a fire going before joining them for dinner.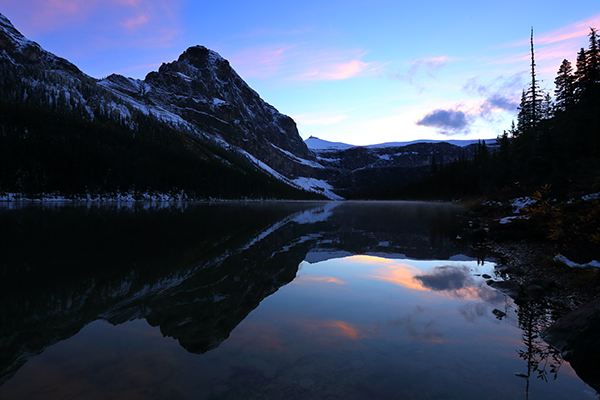 We all sat around the fire until sunset before we turned in for the night.
 The next day there was a cool layer of clouds over the lake so I took some photos before breakfast.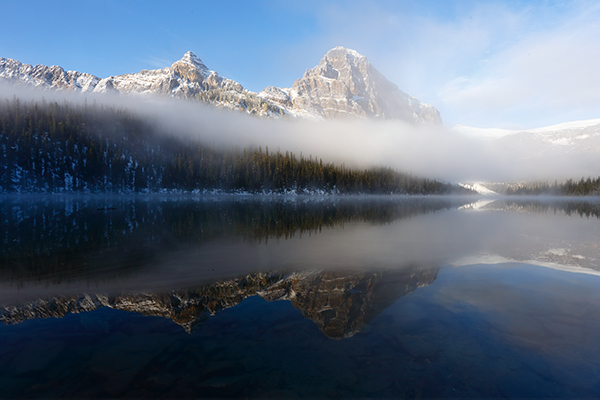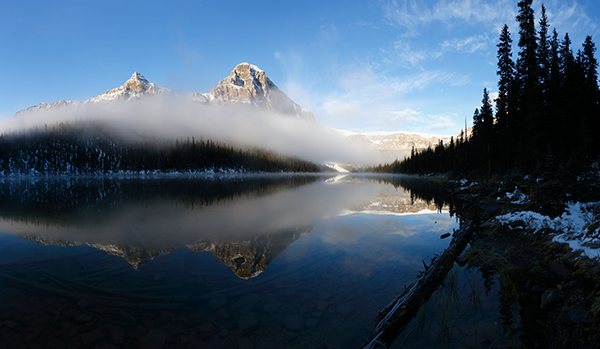 Then it was time to pack up. The kids were heading out to Baker Lake and after we took a couple of group photos we parted company.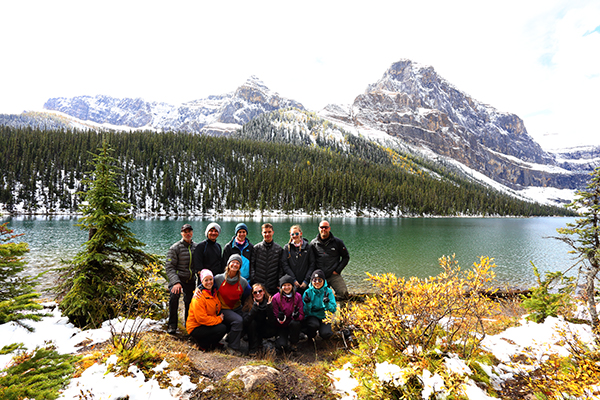 Surprisingly, the trail was in good shape and we had an easy, (other than the grunt out of the inkpots) but long hike back to the truck.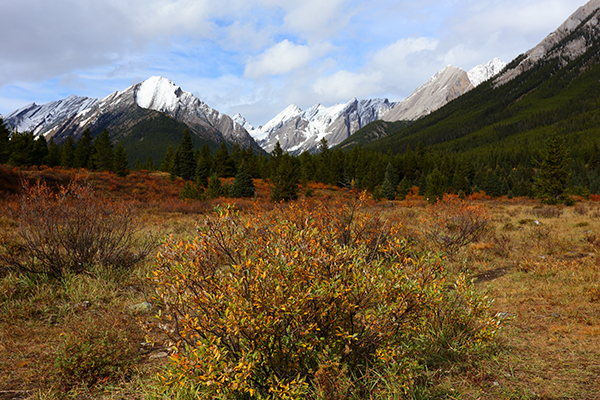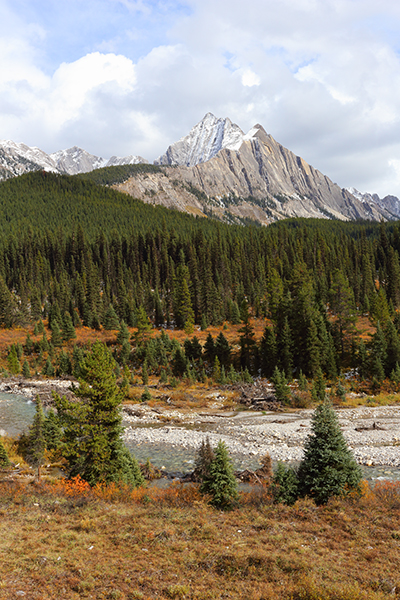 This means that I have some unfinished business in the Sawback Range.